Best of Gossip Girl Quotes: "Dr. Estrangeloved"
by Steve Marsi at .
Last night's Gossip Girl saw a number of story lines unfold intriguingly, and many a scheme hatched with little success. In short, "Dr. Estrangeloved" was vintage GG.
As always, TVF has been compiling memorable lines for the web's biggest and best library of Gossip Girl quotes. Feel free to leave a comment with any we missed!
Here's what we've got so far ...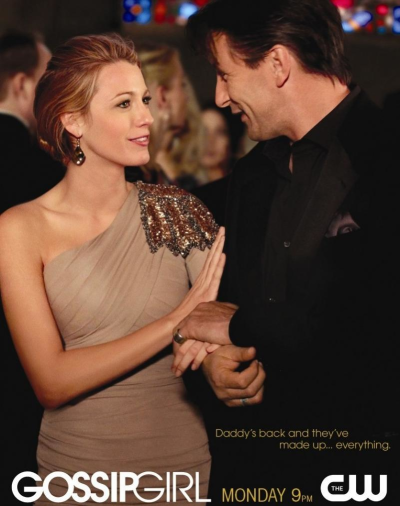 Jenny: Nate is just a friend and Chuck is harmless unless this place runs out of ice. | permalink
Gossip Girl: In case you haven't heard one before, that's the sound of a relationship flatlining. | permalink
Blair: I'm gonna kiss somebody someday, and when I do, it will be for me. | permalink
Dan: Jenny, please tell me what you're doing here; starting with "dad knows" and ending with "these drinks are not for me." | permalink
Chuck: After all these years, you can't see through my smoke screens? I'm not asking for forgiveness, Nathaniel. I did what I did. | permalink
Jenny: So, what's step two?
Chuck: Get him drunk. Take advantage of him. Do women really not get this? | permalink
Gossip Girl: Prep the OR, kiddies. Looks like Jenny Humphrey is scrubbing up to surgically remove a boyfriend. | permalink
Blair: Did you send the invitations by carrier pigeon? | permalink
Dan: I'm glad you got in.
Vanessa: You are?
Dan: Yeah, and hey, they also wished me the best of luck in my future endeavors. So, not a total loss. | permalink
Gossip Girl: Paging Serena Van der Woodsen: After a lifetime in the daddy waiting room, the doctor is finally in. | permalink
Blair: I need to meet men who are not socially astute enough to fear the length of the Bass arm. | permalink
William: Lily told me that she renovated this place again. It's come a long way since when we first moved in here. | permalink
Chuck: There's an outlet by the bed and I'll be in there in a minute. | permalink
Gossip Girl: Spotted, Nate Archibald suffering from a broken heart. Too bad he doesn't realize Jenny's oath is less Hippocratic and more hypocrite. | permalink
Dan: Ain't no party like a Bushwick party! | permalink
Blair: I have a friend that goes to Columbia. But I don't think he attends many classes. | permalink
Blair: Is that an Aaron Rose? | permalink
Jenny: I'm a Humphrey, so syrup is a food group.
Nate: Yeah, how are you not like 500 pounds? | permalink
Nate: Time flies when you're having a Wii tennis death match. | permalink
Chuck: The odds of me remembering this conversation are slim. | permalink
Blair: Dorota, I need answers that don't end in, 'And then I came to America!' | permalink
Lily: The minute people start treating you like you're sick your body starts to listen to it. | permalink
Blair: Dorota, you should really stop buying your prenatal vitamins over the Internet.
Dorota: For this I postpone honeymoon. | permalink
Blair: It's a lot easier to sneak up on someone when you're not eight months pregnant and the person's not standing in front of a full-length mirror. | permalink
William: [on phone] It's not working exactly as I'd hoped. I need you to write Lily another prescription. Well, you can't back out now, I need you to make this work. And I doubt the authorities would be pleased to know what you've been doing. | permalink
Steve Marsi is the Managing Editor of TV Fanatic. Follow him on Google+ or email him here.

Tags: Gossip Girl
Related Stories