Brothers & Sisters Spoilers: Season Finale to Leave Multiple Major Characters in Jeopardy
by Steve Marsi at . Comments
So you know how Rob Lowe is leaving Brothers & Sisters?
You know how his character has a history of heart problems?
You know how in last Sunday's episode, those same heart problems ultimately the retiring U.S. Senator that top secret Washington, D.C., job he was so keen on taking?
Well, much as this seemed to be setting us up for Robert McAllister's seemingly inevitable season finale heart attack, it looks like it may be just one piece of the puzzle.
In the season finale, there will be a shocker so monumental, E! Online reports, it will leave multiple major characters hanging in the balance, according to solid sources.
That's right, multiple major characters.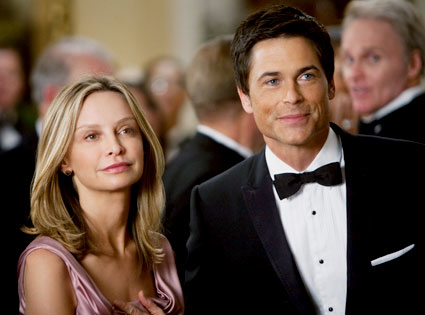 The McAllisters' fates aren't the only ones hanging in the balance.

Here's the deal: Saul (Ron Rifkin), Rebecca (Emily VanCamp) and Justin (Dave Annable) all will have news that may mean we'll see less of them on the show next season.

That's not even the monumental, shocking part of it all, either. The cliffhanger ending is being called an event that will leave you breathless and no one will see it coming.

That's a lot of hype, but someone we don't put it past the show, which somehow makes over-the-top, often-soapy plot lines work thanks to the Brothers & Sisters cast.

There is, of course, more to this than edge-of-your-seat storytelling. We might not see every actor in every episode next season due to budgets and contract negotiations.

The details of next season are still being sorted out.

As for Robert McAllister, Rob Lowe has asked for his character to die. Whether that wish is granted is unclear, as is how it ties into the rest of the season finale.

Thoughts, theories and criticisms are welcome!

Steve Marsi is the Managing Editor of TV Fanatic. Follow him on Google+ or email him here.

Tags: Brothers & Sisters, Spoilers