It didn't take long for Will and Sue to pick up where they left off on last night's return episode of Glee. Specifically: at each other's throat.
Sue uttered on hilarious quote after another about Will's hair, namely that you could season a wok with the amount of product he uses in it. Amazing stuff.
But there's no way these two would ever hook up, right? It's difficult enough to imagine them as friends. Still, Glee creator Ryan Murphy teased to E! News this week:
"We do a very interesting episode where Matt [Morrison] seduces Jane [Lynch]. He does 'Tell Me Something Good' by Chaka Khan and tries to get her to fall in love with him."
Don't bug out too much, fans. Murphy added: "He does it so Sue will leave the glee club alone."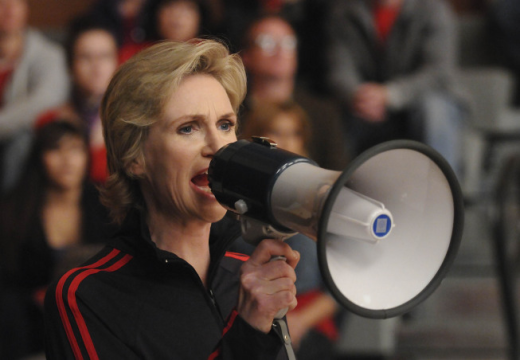 Just as we're recovering from the nauseating prospect of Sue and Will as a couple, Murphy also touched on a future connection between Terri and Finn.

But he's quick to point out that Glee will never be Cougar Town. This relationship will remain 100% platonic.

"Finn gets a job at Sheets & Things," Murphy said to Entertainment Weekly. "He is very down on himself, and Terri realizes that she was not very supportive of her husband and she sees a lot of him in Finn.

"She met Will at 16, so she sees a way to redemption... a way to redo that relationship in a positive way [by acting] almost as Finn's guardian angel, his fairy godmother. She gives him proper moral advice."

This storyline "will carry into season two," Murphy said, emphasizing that a romance is most certainly NOT on the horizon.

Thank goodness. While you digest these relationship nuggets, visit our Glee music section to review the latest songs performed on the show.

Matt Richenthal is the Editor in Chief of TV Fanatic. Follow him on Twitter and on Google+.

Tags: Glee, Interviews, Spoilers