This season of How I Met Your Mother has been our least favorite, relying too heavily on slapstick gags and absurd plot lines (even if the episodes themselves always entertain).
That said, Monday night's "Home Wreckers" was a little more vintage, with the whole gang together throughout and a nice nod to the "Mother" story line - albeit with no girl.
Plunged into an existential crisis by his own mother remarrying, Ted makes the ultimate impulse buy - a dilapidated house in the 'burbs. Dilapidated may be too nice a word.
Feeling like his life is going nowhere, Ted decides he wants that home with his future wife ... even if he doesn't have the wife yet. Understandably, he's way ahead of himself.
Naturally, the gang visits and Ted regrets the decision when he realizes he basically bought the place from The Money Pit (rent that Tom Hanks classic if you haven't before).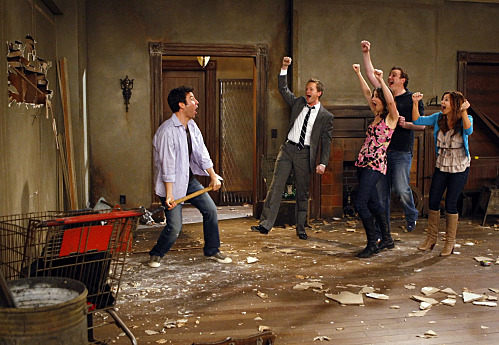 Just the same, the moment with Marshall at the end was sweet, as was the revelation that the dilapidated house turned into the one where Future Ted and his kids reside.
There were plenty of funny moments, but with the whole night revolving around Future Ted in a sense, all we could think was that it was nice to have the show back.
Perhaps it wasn't How I Met Your Mother at its most comedic, but it certainly was a great example of why we began watching and loving the show in the first place.
Other random thoughts and observations:
Some members of the TVF staff actually have smashed the hell out of the place they resided in. Fortunately, they graduated the next day and moved out.
Gary Anthony Williams was terrific in what could have been a forgettable bit part as the home inspector - especially in Marshall's flashback sequences.
Drunk or Kid? Possibly the best game ever. We got 2 out of 3.
We love how Barney can't even keep his own lies believable.
Follow the jump for our favorite How I Met Your Mother quotes from last night ...
Clint: But you have your own sexual memories with your mom, don't you? Exiting her womb, receiving her milk. You get me, don't you.
Ted: Please don't. | permalink
Clint: Your mother is a very erotic woman.
Ted: Please don't. | permalink
Marshall: [repeated line] The only question ... was I drunk, or a kid? | permalink
Barney: [repeated line] Robin cried at Clint's song! | permalink
Ted: The auction was yesterday, my bid was accepted and I signed the papers this morning!
Barney: Was the Blair Witch easy to deal with or did she haggle over closing costs? | permalink
Ted: I'm gonna set up the grill out back, it's gonna be a total sausage fest. Party. Burgers. We'll do burgers. | permalink
Ted: This is going to be the home I share with my future wife.
Barney: Is she in the room with us now, Ted? | permalink
Inspector: These hips? They're not Eriksen baby compliant. | permalink
Lily: We all have to live with the mistakes we make, but how often do you get to bash the living hell out of them!? | permalink
Barney: She's a cougar, Ted!
Robin: I thought you said you can't be a cougar if you're over 50.
Barney: She's a Mellencamp. | permalink
Barney: [to Ted] Your mom and I got to second base. | permalink
Steve Marsi is the Managing Editor of TV Fanatic. Follow him on Google+ or email him here.

Tags: How I Met Your Mother, Reviews
Want more How I Met Your Mother?
Sign up for our daily newsletter and receive the latest tv news delivered to your inbox for free!
More From TV Fanatic
On tonight's Gang Related, Ryan was forced to make a difficult decision. Which side did he chose?
On the latest episode of Satisfaction, Neil learns an important lesson about being honest with himself from Adriana while Grace struggles on her new job. Read on for analysis.
On Rookie Blue, Oliver turns down extending his contract as Acting Staff Sergeant until Duncan's dismissal hearing turns unpredictable. Read on for more.
On tonight's The Bridge, Marco is made an offer that he initially refuses. Will he agree to go after Fausto?
---