Tonight's episode of Grey's Anatomy, "Sympathy For the Parents," is one that Justin Chambers fans have been waiting for, as we finally get to learn something about Alex's past.
He's also in the shower, as the sneak peeks showed.
Taking a break from shooting a May episode with Demi Lovato, Seattle Grace's resident bad boy spoke with E! Online about this evening's episode and all things Grey's Anatomy.
Despite Izzie serving Alex with divorce papers tonight, Justin says to "never underestimate Katherine Heigl," and "she'll probably [be back]. I miss her immensely." Um, what?
So does that mean Alex and Izzie may somehow live on? "I think he'll always have a soft spot for Izzie and he's going to miss her very much. Who knows, anything's possible."
In the more immediate future, Alex and Lexie Grey have been having fun. "It's a little physical [with Lexie]. It's kind of a rebound," Chambers says. "I hope Alex finds love."
As in, he hasn't found it yet?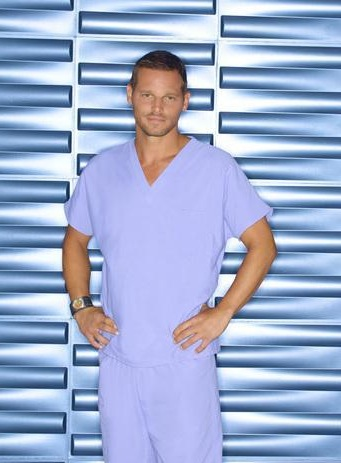 "It just seems like whenever he does, he doesn't know how to deal with it," Justin says. "Alex married Izzie and said all those wonderful things and I don't think you can just fall out of a relationship that easy. It's a bit of a rebound, but she's a cute girl," he says.

"She's a sweet girl... and blond now. So maybe there's something there."

Tonight, Alex's brother shows up at Seattle Grace and, from the looks it, there's some bad blood. "We're finally getting into some of Alex's back story," Justin Chambers teases.

"It's been six seasons and we haven't met anyone from his family. His brother comes to town for some issues and more issues will arise. It's good stuff. We had Debbie Allen direct the episode, which was a real honor, so I think it turned out pretty well."

Oh yeah, and Alex Karev's biggest secret? It's a mushy one.

"He's a marshmallow underneath it," Justin says, certainly making us wonder. "He's got a lot of bravado behind his mouth, but we're starting to see a more sensitive side to him."

Any theories on what that secret might be?

Steve Marsi is the Managing Editor of TV Fanatic. Follow him on Google+ or email him here.

Tags: Grey's Anatomy, Casting News, Spoilers