NCIS: Los Angeles took us inside the underworld of mixed martial arts last night, with real MMA fighters filmed in certain scenes and helping the show pull this off credibly.
Much like its sister series (click here for our NCIS review from earlier), one doesn't necessarily have to be enamored with the subject matter / theme to enjoy an episode.
This portends good things for the future of NCIS: Los Angeles if it continues week after week. Here's our take on last night's action-packed installment, "Hand to Hand" ...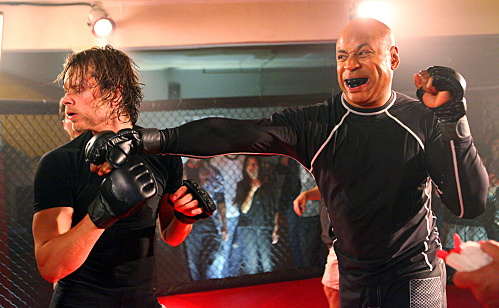 JUST QUIT NOW: No one can take Sam. No one.


When a Marine Lance Corporal is found dead in an alley near Hollywood Blvd., his body shows no sign of trauma, save for having bled out ... of his eyes. Gruesome stuff.

Postmortem analysis shows the Marine, Daniel Zuna, was injected with blood thinner. In an effort to ascertain how he could've been offed, it's Sam who goes undercover.

Why Sam instead of Callen? Because of where the NCIS: LA team needs to start looking - on a team of mixed martial arts fighters made up of men from Zuna's old unit.

Whether you're interested in MMA or not, it was clearly an appropriate, entertaining vehicle for LL Cool J's character, a former Navy Seal. An absolutely ripped Navy Seal.

The MMA sequences were right up

NCIS: Los Angeles'

alley, as the show strives to be hipper and faster-paced than

NCIS

. Sometimes it tries too hard, but it mostly worked.

It turns out some of the men in Zuna's unit died in a firefight they blamed on him, although Callen learns that a wrong turn ordered by Zuna's C.O. was actually to blame.

Heightening suspicions throughout was the fact that Zuna's gym had become this hub for prescription and performance enhancing drugs, along with other illicit activities.

Sam's undercover work led him to a fight with Jason Wyler - for the right to replace Zuna on the MMA team. But Wyler was/is actually undercover LAPD Det. Marty Deaks.

They ended up hitting it off with him, and in the end, Hetty asked him to be the LAPD liaison (like Ziva David on NCIS until early this season) for the Special Projects team.

Might Deaks be brought on board the show to the point where we see him on a recurring or weekly basis? He would sure fill the void of the missing Dom Vail nicely, if so.

Steve Marsi is the Managing Editor of TV Fanatic. Follow him on Google+ or email him here.

Tags: NCIS: Los Angeles, Reviews