Honestly, this show keeps getting better and better. We know everyone out there has a character on Parenthood that she/he can relate to, and that makes for great TV!
This week on The Big O, Kristina actually admits to her husband that she has faked orgasms in the past, Crosby tells his parents about Jabbar, and Sarah gets a hot kiss from her daughter's teacher.
First there is Kristina, poor overstressed mother that has so much on her plate; she is forced to fake her orgasm for her husband's pleasure.  I am sure that there are a lot of overworked, overstressed woman out there that can totally connect to her story.  We were happy to see Kristina finding her "O" at the end of the episode. Proves that a woman's ability to relax is purely mental!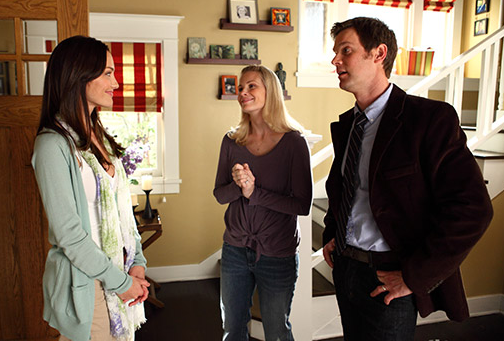 Kristina and Max also get help from a behavioral therapist for Max's autism.  How great was it that Max made a friend at the park?  As a parent, I know how it is to worry about your kids… and making one friend for Max was like winning the title of Class President for someone else.  These two are remarkable parents, and Max is a lucky kid to have them obsessing over him. 
Sarah gets asked out and even kissed by an incredibly attractive younger man.  You are definitely one hot momma! We really see these two hitting it off, with one obstacle standing in their way for happiness, Amber's teenage crush.  Do you see Sarah and Mr. Sears becoming an item despite Amber's crush?  
Crosby finds out that Jabbar is his and even tells his parents he is a father.  The youngest Braverman is finally growing up, and it only took becoming a dad to do so.  We see Crosby becoming a terrific father and Jabbar fitting right into the Braverman family!
We can't believe Racquel has tried to kiss Joel, we called that one didn't we?  Do you think he would have told Julia, if she didn't find out about Racquel's flirting from Crosby?  We think not.  Julia proves she is an awesome mom, by allowing her daughter's playdates to continue after this kiss.  Julia is really putting her daughter's needs before her own feelings, and that makes one excellent parent!
Until next week, here are a few of our favorite Parenthood quotes:
Crosby: Oh look at this; she's the president of his fan club. | permalink
Adam: So I'm just going to say that felt like the real deal. I'm right?
Kristina: Yep, your right! | permalink
Kristina: Honey, I have to wash Max's bandanna, it's fifthly. If he's going to be a pirate, at least he's going to be a clean pirate. | permalink
Tags: Parenthood, Reviews
Want more Parenthood?
Sign up for our daily newsletter and receive the latest tv news delivered to your inbox for free!
More From TV Fanatic
On Tyrant, Bassam attempts to find a peaceful resolution instead of a revolution. Will he succeed?
On tonight's Covert Affairs, Annie and Auggie switch jobs and head to Paris. Will Auggie succeed in the field with Annie as his handler?
A leg went flying on The Real Housewives of New York City this week. You must read this review.
On Perception, Daniel and Kate try to track down a missing baby. Kate also must deal with Donnie's talks about their own future children.
---