If you believe a report in today's New York Post, Gossip Girl stars Ed Westwick and Jessica Szohr are no longer dating in real life, and you won't believe the reason why:
Ed reportedly dumped her for cozying up to one of his best friends!
A heartbroken Westwick split with Szohr in an emotional phone call after learning from friends she'd been flirting with handsome heir Marco Minuto, the Post reports.
Panicked Jessica then flew to London from L.A. to beg him to take her back, but sources say Westwick is still deeply hurt by the betrayal. One source told the paper:
"Jessica recently celebrated her birthday in L.A. and was being openly affectionate and flirty with Marco. They ended up back at the same hotel, but nobody knows what happened behind closed doors. Her flirty behavior shocked a lot of their friends."
"Word quickly got back to Ed, who has been filming [The Chalet Girl] in Europe."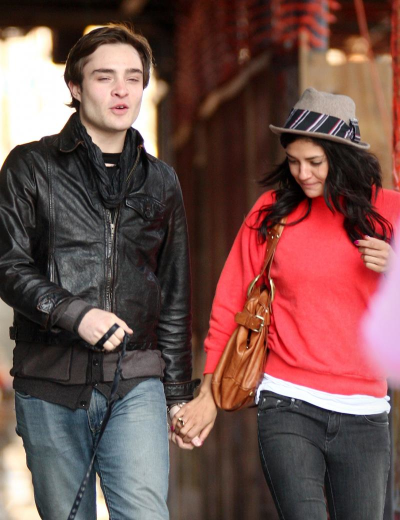 Are Ed Westwick and Jessica Szohr history?

The source continued: "Ed immediately ended their relationship on the phone, and Jessica, who adamantly denied anything happened with Marco, was so distraught over this that she flew to London last Friday with just the clothes on her back."

"She's been begging Ed to take her back, but he is deeply hurt by the whole ordeal. He can't believe that she carried on this way with one of his friends."

The Gossip Girl cast members have been a couple since 2008 after they fell in love while dating other people. Szohr once said, "It can be a little awkward when all of a sudden [you have these feelings for] someone you'd call to talk about a different boyfriend."

Minuto, who comes from a wealthy family and once tried to sue Harvard for refusing to let him in, is in the same circle of friends as both Gossip Girl stars.

He did not return e-mails last night. A source close to Szohr insisted, "She's been celebrating her birthday with Ed in London." Her rep strenuously denied she'd cheated, saying, "The story has absolutely no merit." Westwick's rep declined to comment.

Steve Marsi is the Managing Editor of TV Fanatic. Follow him on Google+ or email him here.

Tags: Gossip Girl