The Mentalist Review: "Blood Money"
at . Comments
If you are a big Law and Order fan - this episode of The Mentalist was right up your alley! The whole show involved being in court and how proceedings follow.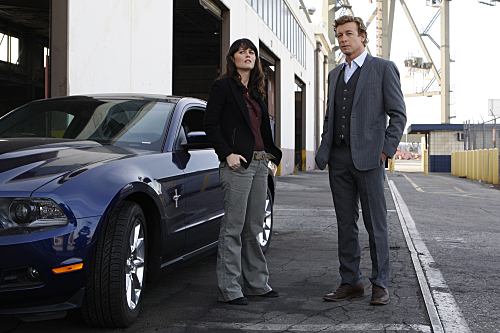 When "Blood Money" first started - we really didn't know what to expect with Van Pelt putting a hit on Rigsby.
We knew their relationship didn't necessarily end on the best of terms, but we wouldn't have guessed it would lead her to do this! Obviously, this was just another one of the CBI's stings to get Mr. Black to admit he killed Ms. Flowers.
How annoyed were you that because of Jane's silly antics, it cost the team from getting Mr. Black thrown in jail!? Of course everything and everyone ended up exactly where they should be, but at that moment, we could understand exactly the kind of annoyance Lisbon constantly has to put up with. 
The episode was jammed packed with action - and we must say - we loved every second of it! Who would have thought that the bad guy would end up being one of the good guys? We really didn't see that one coming....not! As much as this ending was pretty obvious, we have to say we loved every second anyway!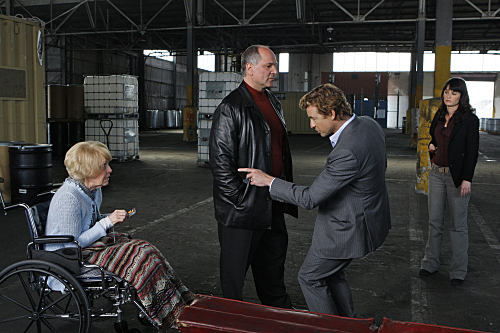 The little old lady in the wheelchair being the mastermind behind it all was pure comical genius! She was so cute and then Bam! She had Jane and Lisbon carted away! Awesome! Purely awesome!
How great was it watching the brief connection Lisbon and Jane shared while they were in the box cart? And equally funny, getting rescued by a boy with a goat! Hopefully, before the season is over, Lisbon and Jane can share something more romantic - dare we say even a kiss?!
What did you make out of last night's episode? Loved it or loved to hate it?! Either way, we are happy that this show is on the air and can't wait to see what antics Jane will get into next week!
Follow the jump to read a few of our favorite The Mentalist quotes from last night's episode!
Jane: (to Lisbon) You're the poster girl for the NRA. | permalink
Jane: Easy with the steal brother. | permalink
Jane: Make it two-thousand and let me tell this tiresome woman to move it along. | permalink
Lisbon: Knowing isn't proving. | permalink
Jane: My point - there is nothing wrong with revenge. | permalink
Lisbon: Nobody gets away with killing a cop, judge, or a DA. | permalink
Tags: The Mentalist, Reviews
Want more The Mentalist?
Sign up for our daily newsletter and receive the latest tv news delivered to your inbox for free!
More From TV Fanatic
It's select ensemble vs. elite in a dance rematch this week on Dance Moms. Who came home with the victory? Read on to find out!
On tonight's Tyrant, Jamal and the Sheik meet for negotiations. Will they come to an agreement?
It was the start of the reunion show on The Real Housewives of New York City as the ladies took their places on the sofa next to Andy Cohen. We recap the bad dialogue and delusional drama in our +/- review.
Who can be trusted? On tonight's Covert Affairs, it's clear that it's important to trust others, but also a huge gamble.
---