Cougar Town Season Finale Review: "Finding Out"
at . Comments
Last night marked the season finale of Cougar Town and we can say we were happily impressed by how it ended.
"Finding Out" maybe wasn't our favorite episode of the season, but it definitely had the crazy, zany antics that we have come to know and love about this gang.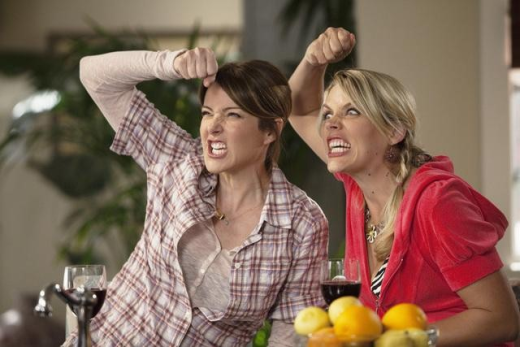 For a thirty minute show, we were quite impress that they were able to put so many different random scenarios together. 
Let's review them:
Bobby and Andy getting his baby to constantly say Bobby! Genius. Even more genius having Ellie ruin the ending to movies Andy always wanted to see, but never got around to it as pay back!
Midnight beer drinking in bed while Ellie is supposedly trying to sleep - but wakes up to join in on the fun!
Been in the can game to figure out who will tell Bobby about Jules and Grayson's secret relationship. 
Ellie showing up at Grayson's house with a techno mix of him telling Jules about the sacrifices people must make for each other when in a relationship.
The flashback of Jules chasing Bobby down in an ATV to give him the divorce papers.
All of these situations made the half hour jam packed with delightfully funny laugh out loud moments.
We were a bit disappointed in how Bobby finally found out about Jules and Grayson. Really? A kiss? With all the sneaking around and planning, we would have thought this defining moment would have been a bit more momentus.
All in all we love this show and can't wait for all the crazy things that will happen next season. For one, we wonder how long Jules and Grayson will last? We feel they will be the type of couple that break-up and get back together and break-up and get back together....for life.
Follow the jump to read a few of our favorite Cougar Town quotes and don't forget to let us know what you thought of the season finale!
Bobby: I'm just a head on the beach! | permalink
Jules: What does that cover? It looks like a net! | permalink
Ellie: Fine, beer me! | permalink
Bobby: Bros before hoes man! | permalink
Jules: Whinny baby say what?
Grayson: What? | permalink
Bobby: Oh I wish I could be in your mouth.
Travis: Dad! | permalink
Travis: Hey new dad - give me twenty bucks and I will never call you new dad again. | permalink
Tags: Cougar Town, Reviews
Want more Cougar Town?
Sign up for our daily newsletter and receive the latest tv news delivered to your inbox for free!
More From TV Fanatic
Power struggles ensue all around Chester's Mill on Under the Dome. Lives will be put on the line.
Scott decides to get tough on Teen Wolf after rescuing his Beta by declaring he won't sit back and watch more deaths. Find out what else went down in the review!
Heather and Tamra consider making peace with Shannon on The Real Housewives of Orange County. See what went down in our TV Fanatic review!
On Murder in the First, the trial of Erich Blunt reaches its conclusion. But what is the verdict? Find out when you read the review.
---