Who is Rachel without her voice? Who is Puck without his edge? Who is Kurt without his... gayness?
This week's Glee episode tackled these questions, as "Laryngitis" forced characters to look at themselves in a new light.
Rachel, of course, couldn't begin to see herself as anyone worthy of anything unless her voice worked. Who would have expected Finn, not typically the most profound, intelligent student at William McKinley, to have the solution to Rachel's problem: a paralyzed football player that truly knows what it's like to lose a lot in life.
Lea Michele was magifiicent in every scene with this character, evolving from awkward and silent to comfortable and full of teary-eyed song.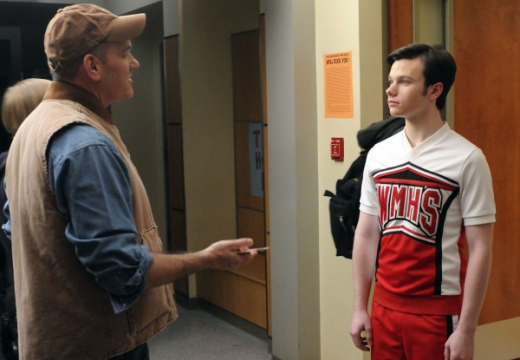 Puck's storyline was more a source of humor, and it paid off in every way: Mercedes referring to herself as a popular, "steaming mug of hot chocolate;" Puck trying to woo her by explaining the history of blacks and Jews; Puck comparing himself to a "sex shark."
All great stuff and all resulting in a pair of great musical numbers: "Lady is a Tramp" and "The Boy is Mine." Both are available in our Glee music section.
Meanwhile, would anyone object if Mike O'Malley joined the cast full-time as Kurt's father? Incredibly, this is the comedian's first real dramatic role - and he nails every scene he's in.
Kurt's struggle to bond with his father was emotional and well-done, but I'm sorry. All that resonates with me from it is the hilarious idea of Kurt trying to hook up with Brittany, beginning with this line from the dim cheerleader:
Brittany: You're pretty much the only guy in this school I haven't made out with because I thought you were capital G gay. But now that I know you're not, having a perfect record would mean a lot to me. Let me know if you wanna tap this. | permalink
There was very little Sue Sylvester this week, but Brittany made up for it with a few gems.
Overall, the storylines were once again a mess (so... Quinn is living with Puck's family now, not Finn's? But her and Puck aren't exlusively dating? And didn't Jesse break up with Rachel last week?), but loyal viewers don't tune in for logical plot developments.
We want fun, heart-wrenching singles and funny quotes. This episode provided both, the latter of which we've listed below:
Sue: I'll have to take to the mic and deliver a diatribe. Probably something about immigrants. | permalink
Mr. Hummel: If things get serious, use protection.
Brittany: Does he mean like a burglar alarm? | permalink
Kurt: I need you to respect my privacy. Brittany and I were just having sexual relations. | permalink
Rachel: I'm like Tinkerbell, Finn. I need applause to live. | permalink
Sue: I'm gonna make it a habit to not stop and talk to students because this has been a colossal waste of my time. | permalink
Puck: I'm a sex shark. If I stop moving, I die.
Mercedes: Me and you would not work out. You're top 40. I'm rhythm and blues. | permalink
Matt Richenthal is the Editor in Chief of TV Fanatic. Follow him on Twitter and on Google+.

Tags: Glee, Reviews
Want more Glee?
Sign up for our daily newsletter and receive the latest tv news delivered to your inbox for free!
From Around the Web
More From TV Fanatic
The road to healing and closure is a long one. Some of our agents are on it, others are struggling. Check out our Graceland review of "Magic Number" now.
On tonight's The Bridge, Sonya and Marco deal with the aftermath of saving Eva. With their lives in danger, how will they protect her?
Jeff and Jessica try to fight off the SEC, while Mike struggles to make good on an investment, causing more rifts as he does it. Can Pearson Specter survive the onslaught? Read our Suits review of "Leveraged" now.
On the Extant series premiere, astronaut Molly returns from a 13-month trip to space with a condition that seems impossible. Read the review for details!
---