Welcome to the Gossip Girl Round Table, where the illustrious TV Fanatic panel reflects on the events of "It's a Dad, Dad, Dad, Dad World" and previews what's to come.
Below, DANdy, Gossip Guy and Mister Meester take on Monday's top lines, Jenny and Serena's feud, Blair's comeback, Rufly's marriage, Eric's awesomeness and more:
~~~~~~~~~~~~~~~~~~~~~~~~~~~~~~
1. What was your favorite Gossip Girl quote last night?

DANdy: Not sure if I can repeat it here, but it involved Rufus, the neighbor downstairs and a differently spelled, gerund version of the verb "to come."
Gossip Guy: Definitely Blair threatening her new Columbia frenemies, "Oh you wanted to see a Blair Waldorf takedown? Cross me again and you'll experience one first hand." I don't want to see Blair mature, I want the Queen B back.
Mister Meester: What Gossip Guy said, followed by Dan's list of acceptable topics (Jersey Shore and food) and anything out of William's mouth. If you close your eyes and imagine it's Alec Baldwin and they're 30 Rock quotes, it's hysterical.
2. Unintentional comedy of the night: Serena wanting respect from her dad while wearing drool-enducing dresses, Chuck openly snorting coke, or Jenny Binging "cancer"?
DANdy: If this type of question is asked again for as long as Gossip Girl is on the air, even if it's not an option, I shall always choose Jenny Binging "cancer."
Gossip Guy: I'm sorry, I was reading this question and got distracted by my mental picture of Serena.
Mister Meester: Serena trying to command respect is unintentional comedy, for sure, but I have to go with Chuck. No one even bats an eye at his endless bender of champagne, cocaine and call girls ... it's just Chuck Bass being Chuck Bass.
3. Team Serena or Team Jenny?
DANdy: Jenny has a team?!? Is its owner Sarah Palin and its GM Spencer Pratt? Who would ever cheer for this team? What would it be called, The Brooklyn Self-Obsessed Whiners? Go Serena.
Gossip Guy: Can't believe I'm saying this, but definitely Team Jenny. It's a scary world when little Humphrey has the better head on her shoulders.
Mister Meester: I wouldn't go so far as to say I'm on Team Jenny, but let's not ignore Serena's ridiculous behavior just because of J's meddling with Nate. Between riding her moral high horse and chastising J to her inexplicable, instant adoration of William, this wasn't your best week, S. Get a clue.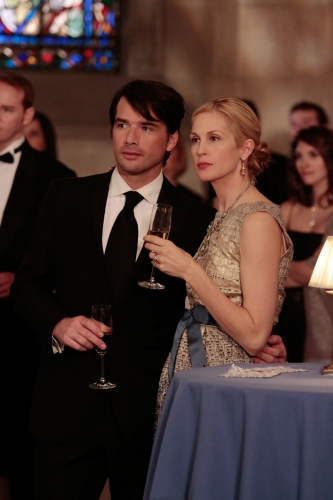 Was last night the beginning of the end for Rufus and Lily?


4. Sweeter gesture: Blair or Chuck?


DANdy: Blair. Chuck helped Blair transfer schools; Blair helped Chuck become a better person.

Gossip Guy: Without a doubt, Chuck. I can't believe this guy took the time to fill out a college application while running the Empire. Do you know how much work those things were? Essays, etc. Thanks Mister Meester for bring up bad memories. I'm going to have nightmares tonight.

Mister Meester: You have to hand it to Chuck for that effort, but Blair wins here, given the deeply personal stakes and the fact that he was naked with Nadine 10 minutes before. You have to really care about someone to ignore that. Blair was awesome in this episode, blending her compassionate, mature side with the start of her comeback at Columbia. Dare I say the *itch is back and better than ever?

5. How much do you love Eric?

DANdy: As much as Eric loves Elliot. I'm twice Eric's age and barely possess half his confidence, maturity and temperament.

Gossip Guy: Even more than Elliot. So bad ass when he stood up to his father for not being there during his suicide attempt. I just keep thinking, what the hell is wrong with Serena? Then I see her in that dress. Then I keep thinking... I am so going to those CW upfronts if Blake Lively is gonna be there.

Mister Meester: More than ever. At least someone had the guts to stand up to William, but also give him a chance after that gesture (ulterior motives notwithstanding).

6. Will Rufus and Lily's marriage survive?

DANdy: It might take all the strength it has not to fall apart, it might be scared and it might be petrified. But, yes, both Rufus and Lily have all their life to live and all their love to give. This union will survive.

Gossip Guy: When Rufus still had Eric on his side, maybe. Now thanks to stupid, selfless Rufus' advice, he's got Eric on team manipulative Van Der Woodsen. I'm scared for Rufus and everyone else involved.

Mister Meester: Here's the thing. For weeks, Gossip Girl spoilers have hinted at Jenny being a home-wrecker. Serena and Nate may be smoldering, but there's no home there. I wouldn't be surprised if things go from bad to worse for Lily and Rufus, and a bitter J is somehow responsible for driving them apart.

What do you think? Sound off in the comments!

Steve Marsi is the Managing Editor of TV Fanatic. Follow him on Google+ or email him here.

Tags: Gossip Girl, Round Tables