Next week's third season finale of Gossip Girl is entitled "Last Tango, Then Paris."
Fittingly, the show will start next season with episodes set in the French capital! 
It will be filmed on location, as well. Co-creator and executive producer Stephanie Savage, who wrote "Last Tango, Then Paris," just flew to France this past weekend to begin scouting out locations for a week of production in the City of Lights.
At least three key GG characters - Blair, Serena, and Chuck - will be there.
The Paris plot line represents "the ultimate extension of our Gossip Girl world," Savage told New York Magazine Sunday. "We mention our characters' fabulous world travels all time, but it's very hard, and expensive, to actually show them."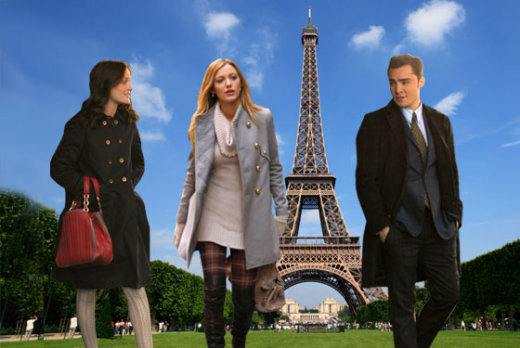 "The books were lucky this way: 'Aspen ski trip' costs nothing extra to type. So it's a big deal to be able to take production on the road, especially overseas."

Savage says the Paris shoot is "a dream" she's had since the CW show began … or at least since Gossip Girl's sophomore year, which launched with key characters enjoying summer shenanigans in the nice-but-it-ain't-Paris locale of the Hamptons.

That trip also had the cost-effective bonus of being driving distance from NYC.

"Shooting in the Hamptons really elevated our feel and reach," co-creator Josh Schwartz said. "But it felt like, to take it to that next level, we had to go international, and what city is more glamorous? And it's been such a part of Blair's character."

But just how will Blair, Chuck, and Serena end up overseas?

"Serena and Blair are finishing up their fabulous summer vacation when someone from home mysteriously shows up in town," Savage explains. "They need to solve this mystery ... or else return to a New York that's a very different world."

No word on whether this person is Chuck, or another character yet to be revealed.

Producers are also loathe to reveal any other French connections, except that the Gossip Girl narrator will eschew her usual "XOXO" sign-off for "bisou bisou."

Also, the episodes will be pivotal to the show's direction next fall.

"Paris is all about jump-starting the season and moving things forward," Savage says, though the Paris ploy is being made from a position of relative strength, not desperation.

As it ends its third season, Gossip Girl remains the CW's top-rated show among the network's core target audience of women under 35. It was renewed back in February.

Thoughts on the upcoming Paris trip? Think it will start Gossip Girl's fourth season off on an awesome note? How do you think they end up there? Discuss!

Steve Marsi is the Managing Editor of TV Fanatic. Follow him on Google+ or email him here.

Tags: Gossip Girl, Spoilers