Has Raylan Givens done as much good as he has harm?
That's the question I find myself asking this week after Raylan's actions have led to the early release of Bo Crowder and the now unjustified (hey, look at that pun!) arrest and incarceration of Boyd Crowder and his subsequent release. 
Alright, so the Bo Crowder thing was basically unavoidable.  Even I'll concede that it is not Raylan's fault that the cartel wants him dead and got their claws into Sheriff Hunter.  This leads Hunter to try and kill Raylan and he has no choice but to apprehend the wayward police office.  In turn, Bo has to be released because either his case needs to be retried or with just 87 days left on his sentence, it's simpler just to release him.  Fine.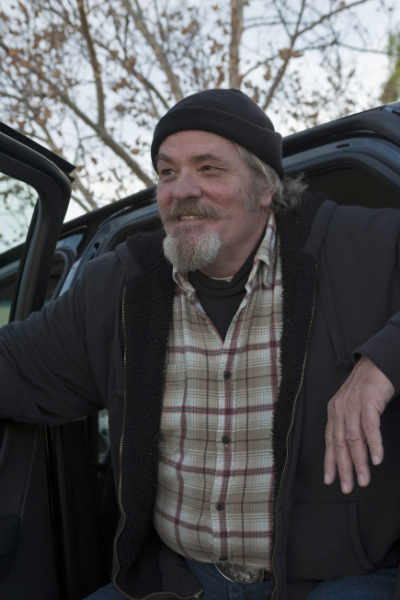 But, Chief Mullen said it best "I tell you to do one simple thing - refrain from screwing the witness in your own shooting - and you can't even do that!"  Of course, what Mullen and Raylan did not see coming was that Raylan's inability to think with the correct head is not likely to impact Raylan's legal pressure, but will free Boyd.  Hard not to wonder if Raylan would have resisted his Tiger Woods-like urges if he'd have known that Boyd would be freed. 
Let's run down the list of good things Raylan has done since coming to Lexington:
Killed Thomas Buckley
Finally got something to stick on Boyd Crowder because Boyd threatened his life
Beat up Dewey Crowe
Solves a hostage situation, criminal eventually shot and killed
Solves another hostage situation, shoots and kills criminal
Tries to apprehend a fugitive, that guy ends up getting shot and killed
Saves a known criminal from his father's machinations
Unravels a staged suicide/murder, apprehends the criminals before anyone else dies
Uncovers a dirty police officer while also neutralizing an attempt on his life
His arrest of the dirty police officer leads to the early release of Bo Crowder
Solves a third hostage situation, no one dies this time
His relationship with Ava leads to the early release and dismissal of charges on Boyd Crowder
Well, I'd say there are three solely positive results in that group: unravels the staged suicide, solves this week's hostage situation and beats up Dewey Crowe (and that one is in there mostly because it was fun).  In all of the others, either something bad happens as a result of Raylan's attempts to make things right or someone gets killed.  While Raylan seems to be able to brush off these deaths, it's still clear that no one's goal at the US Marshal's office is to kill anyone. 
Why bring all of this up?  From a story perspective, if I'm Art Mullen, I'm contemplating sending Raylan somewhere else.  The cowboy rolls into town after killing someone in Miami, gets two guys killed, shoots a third guy and gets two of the most notorious criminals of Harlan, Kentucky released from prison.  Not exactly the best resume.
What is more interesting to me is Raylan's character development.  Is Raylan turning into the hero in a Greek tragedy?  Is he a character who is always trying to do the right thing and has pure intentions, but who can't get out of his own way while his actions, either warranted or foolish, result in something bad happening?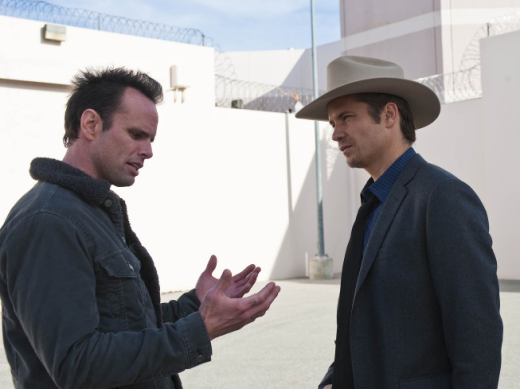 I equate Raylan to the character of Sawyer on Lost, another rough around the edges "good" guy who does things his way.  Much like Raylan, Sawyer's rocky past has more to do with personal vendettas than a history of violence or aggression.  When a damsel in distress is calling, Sawyer or Raylan come running.  While Raylan is only eight episodes into his character development (vs. Sawyer's almost six full seasons) both seem to make situations worse for those they are trying to save. 

At the end of the season, I do not anticipate that Raylan will have anything but a happy ending (vs. my opinion of Sawyer, which is that he's doomed).  But, wouldn't it be interesting if he didn't, at least for a little while, anyway? 

Certainly things do not look promising for Raylan, Ava and the US Marshal's office right now.  Raylan's responsible for the release of two Crowder's and they may be interested in getting revenge on Ava for killing one of their family members.  Because of Raylan, the US Attorney's office, can't do anything about Boyd and is furious with him for ruining their case. 

Yet, we all expect Raylan to find a way out of this mess.  He swears to Boyd that he's going to find a way to put him back in prison.

Typically we expect the hero to ultimately come out on top, so when they don't, or even when it's unclear who's winning or losing, the story becomes far more interesting.  We, as the audience, are far more engaged because we can't predict what is going to happen. 

So here's to hoping for an unexpected twist and/or ending for Season one of Justified.  We can specify season one because the show has been picked up for another 13 episodes in season two. 

Where do you want to see Raylan end up?  How do you think his and Ava's interactions with the Crowder's will work out?  What do you expect down the home stretch of the first season of Justified?

Tags: Justified, Reviews