Royal Pains Review: "Keeping the Faith"
at . Comments
Last night Royal Pains brought in one big guest star - The Big Show as Donald, The Garbage Collector. And we can honestly say it was great watching Evan squirm around this guy - not to forget how tiny Hank and Evan looked compared to him! Really, we were laughing out loud about this!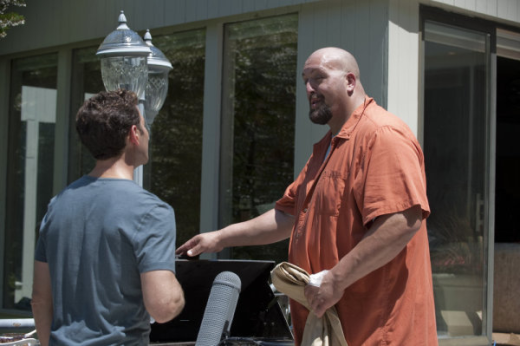 Interesting enough, the one thing that was causing Donnie to pass out was the toxic levels of zinc that was found in his denture adhesive. "Keeping the Faith" should have been called "Keeping Us Guessing" because we were definitely stumped trying to guess what mysterious medical aliment Donnie had!
One part that did have us a bit confused was as to why Faith had such a laps of memory? Did it really have something to do with her improper diet and the gastric bypass surgery? It was great watching Evan try to get out of his date with the whole fake emergency call.
On a side note, do people really do that? If you've ever done that to someone or had it done to you - let us know! We'd love to hear your stories!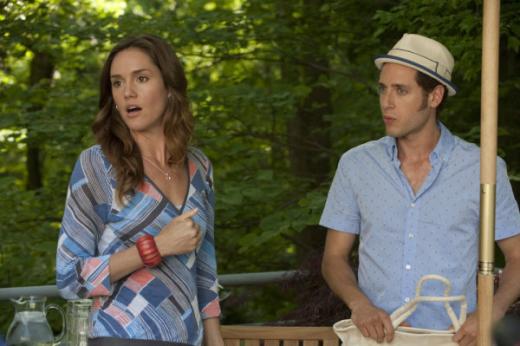 Back to good stuff - Eddie and Hank finally had a chance to hash it out and make peace. Of course, this is the last thing Hank wanted and was reluctant to let his father be forgiven so quickly. I personally think Eddie's plea was very heartwarming and it quasi brought a tear to my eye (what can I say - I'm an emotional sap). It almost felt like to us that Eddie and Hank would be going to war. What do you think? Will they ever be able to make amends?
Boris and Hank also had it out and by the looks of it, Boris isn't too pleased with Hank Med. He even hired himself a pretty new medical concierge. Do you think this means Hank is out of the picture for good?
All in all this week's episode proved to us that Royal Pains is a show you shouldn't miss! It has everything to offer - the comedy is just as good as the intense medical scenes and we can't wait to see what our favorite brother duo has in stored for us next week!
Follow the jump to read a few of our favorite Royal Pains quotes from last night's episode!
Eddie: I may have lost one son, but I'm sure as hell not gonna loose another one. | permalink
Evan: Just pet the goose. | permalink
Evan: I've been thinking about putting a will together. Um, I'd leave everything to you, but since I don't actually own anything I'd just leave you the will. Does that interest you at all?
Hank: No it doesn't. | permalink
Evan: It's your classic existential dilemma.
Hank: I don't think you know existential means. | permalink
Faith: Maybe you'd be willing to show me the sites?
Evan: Willing and able. | permalink
Mrs. Neuberger: Did you know that he is bringing sexy back?
Hank: I didn't know it was ever there. | permalink
Tags: Royal Pains, Reviews
Want more Royal Pains?
Sign up for our daily newsletter and receive the latest tv news delivered to your inbox for free!
More From TV Fanatic
We don't like to gossip but there was plenty of it on The Real Housewives of New Jersey Season 6 Episode 3. We recap the rumors in our +/- review.
Jamie enlists Roy's help to clear her pro bono client with whom she has a unique bond on Reckless.
A vicious crime against the GR causes uproar. Read our review of The Leftovers Season 1 Episode 5.
It's Vegas, baby! On Halt and Catch Fire, the team heads to COMDEX to promote their PC venture. But more obstacles get in their way and a certain choice could tear the team apart.
---