Following the surprise elimination of Alexie Agdeppa last week, the remaining four girls and six guys on So You Think You Dance were on notice - nothing can be taken for granted.
This week, the show continued to switch up its format (which makes it a little hard to get into the groove, to be honest), with the top 10 pulling their All-Star partners out of a hat.
With the All-Star choice came the selected style of dance. Another big change was that this time, the partners were in on the critiquing along with the crop of SYTYCD hopefuls.
It's unclear if the All-Stars are, or should be part of the critique, or whether they should get lost and leave the contestant as the focus. Feels like they're making it up as they go.
That said, there was terrific dancing as always.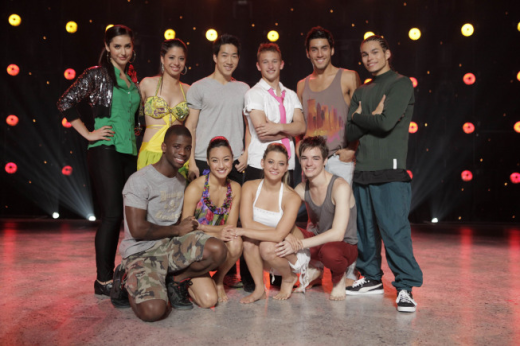 THE TOP 10: Tonight, only nine will remain. Who's going home?

Highlights included a lyrical hip-hop routine danced to near-perfection by Lauren Froderman and Dominic Sandovel, in which she connected with her partner and the audience beautifully.

For Ashley Galvan and Mark Kanemura, Travis Wall came up with a routine that she danced wonderfully. That's two straight contemporary bits for Ashley, both of which she's done well.

Cristina Santana and Pasha Kovalev also shined in their Paso Doble, turning in a strong, passionate effort accentuated by the choreography and the impact of watching in HD.

Jose Ruiz's Bollywood routine was not a great success despite his best efforts, while Adechike Torbert's contemporary piece was salvaged only by Allison Holker partnering with him.

Kent Boyd and Courtney Galiano, meanwhile, had a jazz routine in which Kent was forced to be sexy. Not happening. Courtney, though? Holy cow. Kent's got skills but needs to mature.

Robert Roldan gave a great performance doing the Argentine Tango; Melinda Sullivan was paired with favorite Ade Obayomi in a bit that was fantastic except for an odd dress choice.

Somewhat surprisingly, Alex Wong and Billy Bell, a couple of fan and judge favorites, did not shine as brightly. We doubt it will result in their elimination, though you never know.

Alex and Lauren Gottlieb danced a Broadway routine, in which Alex's dancing was too stiff, the outfits too constricting, and the coolness factor simply not up to his high standards.

Billy Bell and Comfort Fedoke had a Krump routine. Much like Kent trying to act sexy, Billy is a little too cute to act hard. Sometimes his reputation precedes and handicaps him.

It's all about stepping out of the comfort (no pun intended) zone and being able to handle a wide variety of routines. Can Billy, Kent and Alex handle that kind of pressure?

The results show airs tonight. Who do you think will be leaving So You Think You Can Dance - and who do you think has what it takes to go all the way?

Steve Marsi is the Managing Editor of TV Fanatic. Follow him on Google+ or email him here.

Tags: So You Think You Can Dance, Reviews