The Bachelorette was not at its best last night, but not every episode can bring the drama, and there were still plenty of steamy and borderline psycho moments to go around.
Let's sum up:
The guys wrote poems for Ali, with the winner getting a one-on-one date with the perky blonde. The prose results ranged from quality to comical to flat-out poor.
Kirk received a rose on a one-on-one date despite admitting the deep, dark secret from his past ... that he lived in a crappy old house and gold mold poisoning.
On the group date, they did some spelunking, and horseback riding. Then Ali got drunk in the hot springs, while the guys got jealous of each other ... standard.
Rated R prevailed in the two-on-one date over Kasey (pictured), who probably ended up hurting his cause with that tattoo, and his inability to speak intelligibly.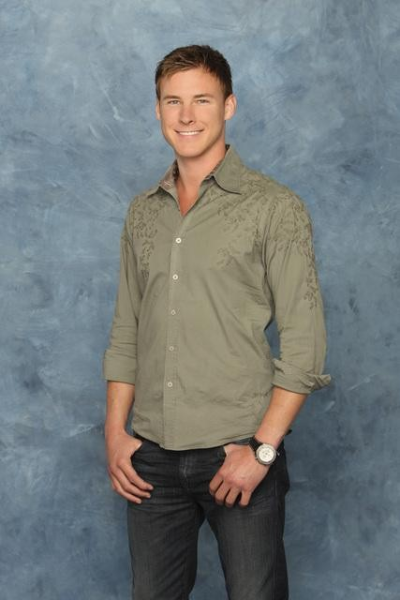 KREEPED OUT: Ali couldn't deal with Kasey and left him on a glacier.

The highlight of the evening was watching Justin calmly prepare for his showdown with Kasey, who unraveled so fast it wasn't even funny. That tattoo couldn't have helped.

Of the non-crazies, Kirk, Chris L., and Roberto all shined in particular last night. We can see all three of these guys getting hometown dates, as well as Frank in the top four.

In addition to Kasey, Chris N., who no one knew was still around until last night, is not around any longer. Seriously, guy got about one minute of screen time and blew that.

Promos for next week hinting that someone has a girlfriend (see The Bachelorette recap here for further exploration of this topic, and Monday night's episode) may have been the most exciting single aspect of last night, though. Is this legitimate? Who could it be?

Our money's on either Rated R or Frank. There's just something about the latter we don't trust, and the former, well, he's Rated R. Justin came off well last night only because he was pitted against Kasey. There's still something up with that guy too.

All in all, not the best, and not the worst episode of The Bachelorette this season, but plenty entertaining. As our favorite guilty pleasure, that's all we can ask from it.

Steve Marsi is the Managing Editor of TV Fanatic. Follow him on Google+ or email him here.

Tags: The Bachelorette, Reviews