Last night on The Real Housewives of New Jersey, Dina insisted she wants Danielle out of her life, then later decided to make good on that threat - she left the show.
Meanwhile, the husbands attempted to haze Ashley's boyfriend Derek in a poker game, while Jacqueline confronts Danielle's ex Chris about a sex tape they made.
Chris denied involvement and Jacqueline believed him. Classy Danielle and her friends, which apparently she has, go shopping for lingerie and then pole dancing.
Follow this link for a much more comprehensive Real Housewives of New Jersey recap. We've recapped some of the basic highlights from last night for you here, too: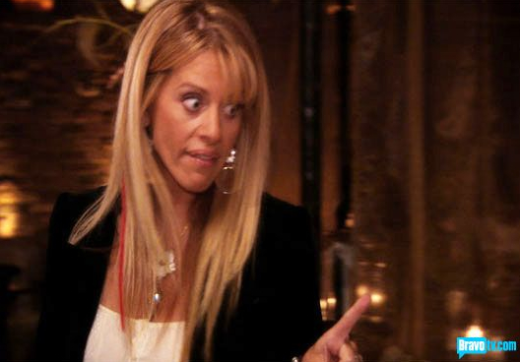 We'll miss Dina as the voice of reason as well as the source of some of the best quotes. At the same time, we respect her for bolting on this madness.
Danielle and friends decide to hit up "The Squeeze Lounge" because Ms. Staub needs to hit the stripper pole to regain confidence as woman. Don't we all?
The meatheads were in full meathead mode during a poker game in the basement of Jacqueline's home - there were enormous trays of meat, and they were putting Derek through a virtual meat grinder of male bonding/hazing. Not that funny.
Teresa, Joe, Jacqueline, Chris, Caroline, and the kids went to a pumpkin patch. The adults made jokes about testicles. Jacqueline likened Danielle to a farm animal within the same breath as telling her son that it's not nice to talk smack about people. 
We have to say, while the episode was boring at times, and while it got a little annoying by the 10,000th time Dina said she wanted to cut Danielle out of her life, especially since it was Dina initiating the meeting, at least she made good on that threat in the end.

Smart move, Dina. We'll miss you, but smart move.

Steve Marsi is the Managing Editor of TV Fanatic. Follow him on Google+ or email him here.

Tags: The Real Housewives of New Jersey, Reviews