Weak.
If we had to sum up the season finale of The Real Housewives of New York City in one word, that would be the pick. Sure, there were some highlights, but really? That's all, ladies?
The much-hyped sender induced more naps than slaps. When even the big "reconciliation" lunch between Bethenny and Jill ends up being uninteresting, you've wasted an episode.
Don't they watch The Real Housewives of New Jersey? Teresa would've flipped a table or shouted "prostitution whore!" At least give us some passive-aggressive, narcissistic rage!
It's a restaurant. A public place PRIME for embarrassment. Even this writer was once at an NYC eatery where a patron began choking a dining partner. Alas, we got nada Thursday.
Jill and Bethenny sat down because the former sought to patch things up with the latter, wary of her intentions. The tension built ... and ended with no real resolution or drama.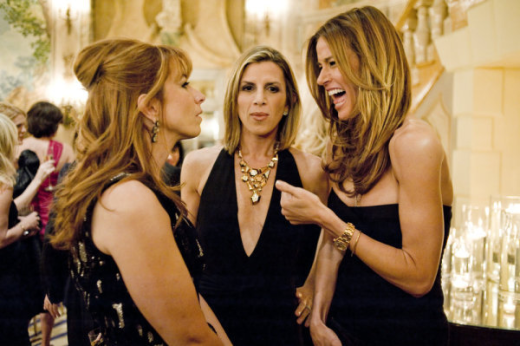 The NYC Housewives failed to bring sufficient drama at times.

They leave having talked, but without a real agreement and unsure of how to proceed. Wow, way to leave us on the edge of our seats here! What is this, real life all of a sudden?

The other problem with the primary story line in "Rebuked, Reunited, Renewed" is one that plagues many reality shows as they get bigger: The Housewives are too darn famous.

Sad as it is, you can pick up any a tabloid and know what's going on with Bethenny Frankel or Jill Zarin in real time. Reality shows are months behind - many months in this case.

These last few episodes have taken place around the holidays. It was 91 degrees last week. Bethenny is barely showing signs of pregnancy on TV, yet is a new mom in real life.

Most significantly for purposes of this episode, Bethenny didn't invite Jill to her wedding to Jason Hoppy (still her boyfriend on the program, obvs). So clearly they're still at odds.

These factors, combined with sheer boredom, made last night forgettable.

Elsewhere, LuAnn hosts a launch for her new album and performs her single, "Money Can't Buy You Class." She honestly must be one of the worst singers in human civilization.

This made for the highlight of the night, of course, because watching LuAnn attempt to be alluring as she sings is unintentional comedy at its best ... if your ears don't shatter.

Many of the cast members - including a half-nude Kelly Bensimon - are in attendance and appear to be delighted with LuAnn's new career. Bribes go a long way, apparently.

Later, everyone gets together to celebrate Ramona's renewal of her marriage vows with hubby Mario. Babbling incoherently, Ramona either had too much to drink or too little.

We also love how hard this "wedding" was hyped up when in reality, it was just a renewal of vows. Special, sure, but clearly made for TV. Sorry, does that make us cynical?

Quite the up and down season. Kelly's Virgin Islands meltdown was probably the most entertaining part, and the least? Last night's big lunch and non-wedding. It's a tie.

That's all for this year. Follow this link for a far, far more extensive, exhaustive, passionate and in-depth Real Housewives of New York City recap from our celebrity gossip site.

Steve Marsi is the Managing Editor of TV Fanatic. Follow him on Google+ or email him here.

Tags: The Real Housewives of New York City, Reviews