Jada Pinkett Smith returns as Christina Hawthorne on June 22.
Indeed, season two of Hawthorne will feature more drama and suspense than ever, according to a new TNT press release. Fans of this series should read it below, as they get excited for a summer's worth of new episodes:
The doors of Richmond Trinity have closed…permanently. That's the dramatic reality that opens the second season of TNT's powerful medical drama, HAWTHORNE. This June, the hit series returns with star and executive producer Jada Pinkett Smith (The Women, The Matrix trilogy) as Christina Hawthorne, a Chief Nursing Officer ready for battle on the front lines of a war against declining patient services and hospital budget cuts.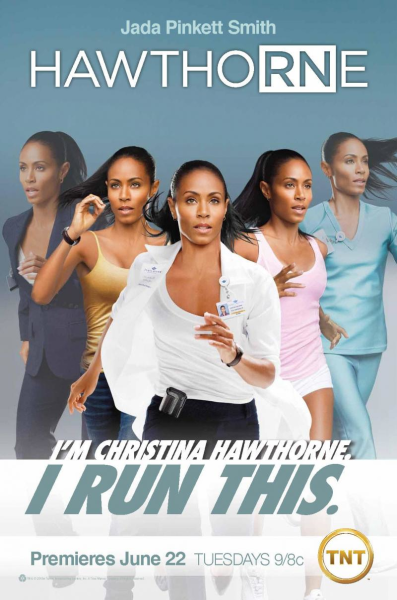 HAWTHORNE is told from the point of view of nurses as they struggle against the odds to deliver the best care possible. The series also stars Michael Vartan (Alias) as Dr. Tom Wakefield, Richmond Trinity's Chief of Surgery who helped Christina's husband during the last stages of his cancer; Suleka Mathew (Men in Trees) as Bobbie Jackson, a fellow nurse and one of Christina's best friends; David Julian Hirsh (Lovebites) as Ray Stein, a nurse struggling with being accepted in a female-dominated profession; Christina Moore (90210) as Candy Sullivan, a nurse with a patriotic sense of duty; Vanessa Lengies (American Dreams) as Kelly Epson, who continues to find her footing as a nurse; and Hannah Hodson (TNT's The Ron Clark Story) as Christina's daughter Camille.

As the second season of HAWTHORNE opens, several Richmond Trinity doctors and nurses have been transferred to James River, a failing hospital in terrible shape. There, Christina butts heads with the ER's head nurse, Gail Strummer (Vanessa Bell Calloway – The District), who is extremely set in her ways. Christina is impressed, however, by the charming Dr. Steve Shaw (Adam Rayner – Mistresses), who hails from England, and the hard-working ER clerk Marcus Leeds (Collins Curtis Pennie – Half Nelson), who has his eye on Camille.

This season, Christina and Tom will try to forge a romantic relationship, especially now that he is no longer serving as Chief of Surgery and can devote more time to patient care and a private life. Bobbie will once again find herself helping out homeless mother Isabelle. Ray's lust-hate relationship with Dr. Marshall will hit some snags over Ray's continued feelings toward Candy, who is serving a tour of duty in Afghanistan. Kelly's confidence as a nurse will slowly build, thanks in part to her work with a nurse (guest star Sarah Gilbert – Roseanne) who's even more insecure. And Camille takes a step toward adulthood that her mother isn't sure she's prepared to take.

Created by Emmy winner John Masius (St. Elsewhere, Providence, Dead Like Me), HAWTHORNE comes to TNT from Sony Pictures Television in association with Pinkett Smith's 100% Womon Productions, John Masius Productions and Jamie Tarses' FanFare Productions. HAWTHORNE is executive-produced by Pinkett Smith; Masius; Glen Mazzara (The Shield, Crash, Life); and Jamie Tarses (My Boys).

Matt Richenthal is the Editor in Chief of TV Fanatic. Follow him on Twitter and on Google+.

Tags: Hawthorne