This week's installment of Burn Notice was pretty standard fare for the show. It did a decent job of moving the Jesse storyline forward.
The highlight of "Past and Future Tense" had to be the Russians and their fear of Michael Westen, as he actually got four trained Spetsnaz to give up without a fight. I do love it when a hero's legend is bigger than life. This reminded me of Oliver Platt's character in Three Musketeers, claiming he was a famous pirate and, just when you think he is totally full of it, two scruffy pirates recognize him and jump overboard at the mention of his name.
Michael Westen is apparently the Russian's Porthos the Pirate.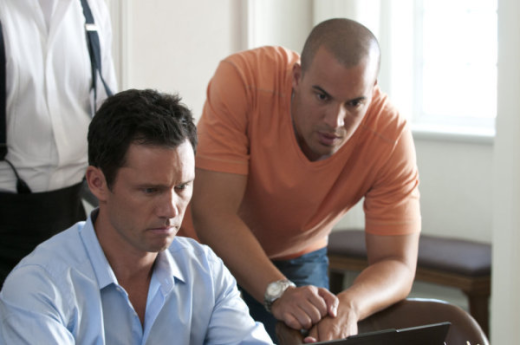 The one part of the episode that I really wasn't crazy about was the continuing lecture from Jesse about how he is going to bury the person who burned him and the continued banter between Fiona and Michael about how horrible it is that they are lying to Jesse.
Yes, we get it, we like Jesse too, and don't want him to kill Michael. Can we move along now?
I know that the writers want this tension to be stretched out and are creatively weaving the story so that when Jesse does find out he will be torn on killing his friend or not. But, honestly, they need to find the next cog in that wheel; this one is getting very worn out!
That minor disappointment aside, the second highlight for me was Burt Reynolds as Paul Anderson. Reynolds is still looking great at 74 years old and his performance was right on par. We were treated to some of his wit, charm, and ruggedness. The only thing we didn't get was his signature laugh. Still, some of this week's quotes features some of his character's' best dialogue.
No matter how many roles Reynolds plays, I will always remember him as "The Bandit" running from Sherriff Bufford T. Justice in
Smokey and the Bandit
(favorite childhood movie).
I had hoped that they would have worked in a Bandit or Cannonball Run homage or reference into the episode. It would have been so easy to do. Such as when he and Michael were being chased by the Russians in the car, he could have said:
"Can't you go any faster? Where is a firebird when you need one?"
This is fun! It reminds me of a mission I had in Texarkana." 
"Where is Victor when I need some chaos?" 
That is just three I thought of sitting here. I bet together we could come up with many more! Do you have a Smokey and the Bandit or Cannonball Run reference they could have used in the episode?

Post it below and next week I will announce who had the best one.

Jim G. is a TV Fanatic Staff Writer. Follow him on Twitter.

Tags: Burn Notice, Reviews