To start this review, allow me reveal the winner of last week's reference/quote contest. The winner is actually my wife for the quote: "Congratulation Ebert, you asked for quotes for a 33 year old movie from a show whose demographic is 18 to 25."
So congratulations to Mrs. Wizard for that riveting observation.
Moving on to this week, "Where There's Smoke" was another good offering, moving the overarching story forward but, also revealing that Jesse has developed some real feelings for Fiona.
So it appears our inevitable love triangle has finally started taking shape. Jesse has feelings for Fiona, Mike and Fiona love (and hate) each other. The only piece missing is Fiona showing feelings for Jesse. Don't get me wrong, I am sure there will be more to it that my simple break down, I am just acknowledging the elephant in the room.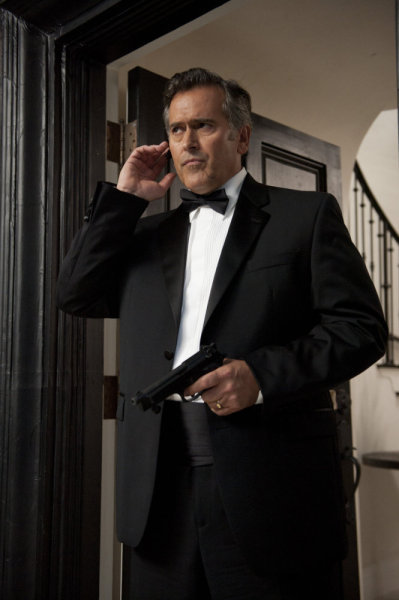 I think Madeline said it best though at the end of the episode. Mike and Fiona Love each other, and they hate each other, but it is always each other. I honestly don't know if a true triangle will be formed. However, I am guessing it is Jesse's feeling for Fiona that contribute to him not killing Mike when the truth comes out about Mike's involvement with him being burned.

This was also very much a Fiona episode, we got to see her do weapon improvising and acting for the kidnappers. I really liked it; normally this is all left to Mike, so it was a fun chance to trade places. I think it would have been awesome if she had actually done some of the voice over narration for her parts by butting in with "excuse me, you were not there" or something. But maybe that is just my Fiona fanboy side peeking through.

For those that didn't recognize him, or for those that did recognize him but couldn't place him, the lead kidnapper was wonderfully portrayed by Yancey Arias who has been on NCIS: Los Angeles and the failed relaunch of Knight Rider.

No review would be totally complete without a mention of Madeline and her continued patience with her son's request for help breaking the law. However, I did feel that they missed an opportunity with her when she was helping Jesse with Christian.

Once she got Jesse to back off, I was really expecting her to step up as the "average woman" and convince Christian to trust Jesse and Mike completely instead of keeping them out. Instead Jesse eventually did it, which worked for the story of course. I just felt it was a missed opportunity.

So what did you think of tonight's episode? Do you think Fiona has feeling for Jesse? Do think Fiona and Mike will ever actually *be* together? Sound off below and don't forget to check out our selection of Burn Notice quotes from this week.

Jim G. is a TV Fanatic Staff Writer. Follow him on Twitter.

Tags: Burn Notice, Reviews