Gossip Girl took center stage at the Television Critics Association's Summer 2010 event with a panel featuring Ed Westwick and executive producers Josh Schwartz, Stephanie Savage and Joshua Safran. All shed light on Season Four, which premieres September 13.
Here are some of the highlights, via Entertainment Weekly ...
The first-look trailer of Blair and Serena's Parisian adventure was très magnifique! The juiciest spoilers from the clip: Blair pushes Serena into a fountain and Blair and Chuck having a tense rendezvous inside some famous train station.
Savage pitched Warner Bros. the idea for the pricey filming location via a sizzling reel that intercut generic images of Paris with scenes from the show.
Ed Westwick says he was so "blown away" by new love interest Clemence Poesy that he had a hard time distinguishing fiction from reality. Hope Jessica Szohr isn't reading this ... oh wait, the cast already hates her. Never mind!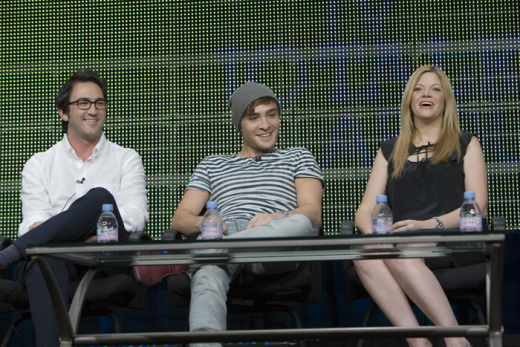 Ed Westwick flanked by bosses Josh Schwartz and Stephanie Savage.
The third episode will feature a Fashion's Night Out-themed plot.
Asked about Michelle Trachtenberg's commitment this season, Savage teased, "You will be seeing more of Georgina Sparks in more ways than one." Gulp.
Jenny's return later this season will be full of "drama," said Steph.
One person who's MIA: Gossip Girl. "[Her site] will be under construction" ahead of a relaunch with "new features she's never had before," Savage dished.
"We definitely have ideas about where we want things to end," said Savage of the show's eventual series finale, "but we tend to go season-to-season." Elaborated Schwartz, referencing Lost: "We know what the island is ... Manhattan." 
Thoughts on these Gossip Girl spoilers? Share them below! What is Gossip Girl up to? What will Jenny's return entail? What is the show's endgame? Discuss!

Steve Marsi is the Managing Editor of TV Fanatic. Follow him on Google+ or email him here.

Tags: Gossip Girl, Spoilers