Marg Helgenberger has played Catherine Willows on CSI since 2000. It's amazing that it's been that long, and that despite previous reports of her departure, the actress recently re-upped for Season 11. Why the change of heart? How and when will Catherine exit?
Excerpts from an interview Marg gave with TV Guide shed some light on those questions. Here's what she has to say about her return to the CBS ratings machine:
On being motivated by her split with her husband, actor Alan Rosenberg: My ex-husband and I are on very, very good terms, but the way the money was divided certainly had something to do with me deciding to come back for another season.
On her reduced workload this season: "I asked to do fewer episodes, so I am doing only 19. CBS was also using the poor economy as a way to pull in the reins, so honestly all of us took pay cuts this year. Because I'm doing [fewer episodes], I won't be making as much."
"Plus, I negotiated a few episodes in which I'm only working three days. Apart from the money, I wasn't quite ready to let go of the character and the people I work with."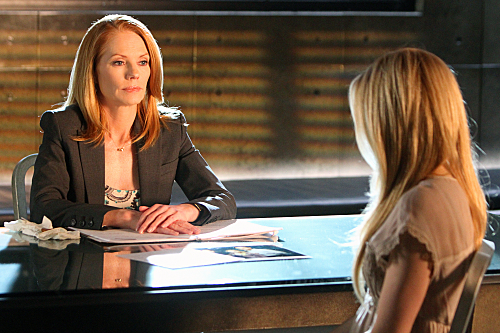 On whether CBS wanted to extend her contract beyond this season: "They did, but it was on terms I didn't find agreeable. I wanted to do 13 [episodes] and be finished by Christmas, but they wouldn't go for it. I'm thinking of this as my last 19 episodes."

On how she would like to see Catherine go out: "I certainly would not want to die and have my body autopsied. Nor would the fans. We're going to get into what's left of the casino Catherine inherited from her father, some of it told in flashback."

"This could possibly lead to Catherine's exit. It's very interesting to think that a woman my age [51] could have a big career change and develop a whole other set of skills. That's how I'd like to see it — she's still in Las Vegas in a whole other world and close to the action if she needs to be."

On her love life, on- and off-screen: "I have a new boyfriend who's not in the business. Life imitates art because Catherine has her boyfriend as well [Detective Vartann, played by Alex Carter]. I just heard that we are going to have a love scene together - in bed."

"I haven't done that since George Clooney in ER. I have to worry if my legs are shaved!

Steve Marsi is the Managing Editor of TV Fanatic. Follow him on Google+ or email him here.

Tags: CSI, Interviews