Four points as we begin this brief Real Housewives of New Jersey review:
Watching these women, one in particular, in HD is a truly harrowing experience.
After last week's high drama, the predictable letdown last night was inevitable.
How much do you want to get in the ring and duke it out with Danielle Staub?
The RHONJ episode titles rule.
Our gossip site breaks down last night's The Real Housewives of New Jersey drama in further detail, but the four points above tell you all you need to know. The gist of last night:
Joe Giudice takes three of his daughters to a karate center to learn the basics, while Danielle and her two daughters are learning self-defense techniques of their own. Fight! Fight!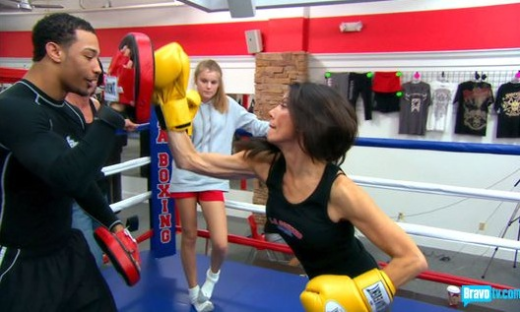 Danielle and her protruding cheekbones get a workout.

Naturally, this being Danielle Staub, she thinks it's essential due to the constant physical threat she finds herself under. She decides to press charges against Ashley, as well.

Nothing like gearing up for physical and legal battles, right Danielle? Who knew grown men and women enjoyed brawling so much? Even Discount Danny is way too into it.

Elsewhere, there was a bunch of time devoted to Albie and his law school. He's going to try to get in somewhere else. It also appears that Caroline flirts with her son. Weird.

At Posche, Teresa sashays through the door to apologize to Kim D. for the fashion show ruckus. Then Kim G. rolls up and the Danielle trash talk commences, as per usual.

Danielle goes to meet her two attorneys and her "friends" who may or may not have homes. She is intent on prosecuting that Ashley to the full extent of the law ... sigh.

"I felt in fear of my life," she says for the 349th time. She also reminds us, "I just want to be left alone." Well, aside from all the times she clamors for endless attention.

Jacqueline and Caroline attempt to talk about the seriousness of thesituation with Ashley. "I mean, it is what it is," she mumbles about possibly being dragged to court.

"Like I just don't understand, like, her problem with me."

Well said, Ashley. Well said.

Steve Marsi is the Managing Editor of TV Fanatic. Follow him on Google+ or email him here.

Tags: The Real Housewives of New Jersey, Reviews