Viewers were treated to the second part of this week's crossover between Eureka and Warehouse 13 last night.
The episode, titled "Crossing Over," was very enjoyable and I hope this isn't the last time the two casts meet.
While the overall episode was well done, and Claudia rocked (as always), it felt like her visit was squeezed in to the story. If you look at the overall story, you could easily have removed her from the episode and other than the mine field scene being played out differently (Carter would have found Fargo standing on the first mine), everything would have continued as it did.
While Fargo's visit was the actual cause of the issue on Warehouse 13 this week, this end of the crossover felt more like a requirement to add Claudia somewhere in the story more than having fun with the character.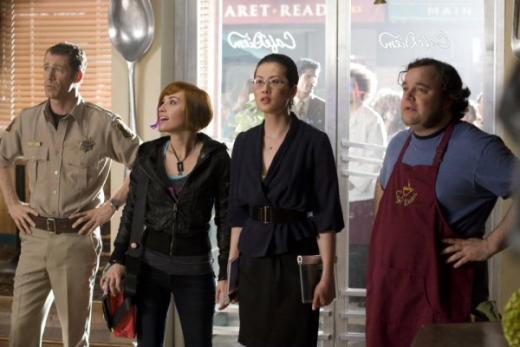 For example, it would have been fun if the lighter that Grant had turned out to be an artifact and was the cause of the issue. They showed him using it several times, so the setup was there.  Claudia was there to get new "goop" so it would have been perfect for her to "tag and bag" her first artifact. But, maybe that would be too much of a Warehouse 13 story element to really fit into Eureka.

That disappointment aside, I liked the rest of Fargo and Claudia together. I thought it was great that they did a little kissing and clearly they are well-suited for each other. I really hope that they get to see each other again or at least mention each other on their respective shows. I think they make a cute couple.  I am sure with Web cams and video phones they could easily have little scenes here and there.

On the topic of couples, it was a really nice surprise that Zane waited for Jo to wake up and then played it off by giving her a magazine to read. Jo was right when she said that she saw glimpses of the man he used to be. We see it, too. I really hope the writers continue her and Zane down this path of rediscovering their love for each other. It could almost be a modern Princess Bride or Romeo and Juliet where they are meant for each other in any timeline.

So our love triangle is now getting firmly underway. Grant is hitting on Allison, Allison is smiling at him all innocently, and Carter is feeling super jealous of Grant.  I think the best advice came from Jo when she told him to get off his butt and do something about it. I agree with her.

Speaking of Grant, I really hope we are done with the "I am causing issues by being here" stories around Grant. I understand that he traveled through time and that gives the writers free reign to use him and the time travel however they want.

But seriously, we are only five episodes in and this is the third episode that revolved around Grant and his time bridge causing problems. Don't get me wrong, I love that Grant is staying and I have enjoyed the episodes so far, I just think they are over playing this gimmick.

How great is it that Henry is falling in love with Grace? Further, how amazing is Grace that she is willing to wait for Henry to get his act together and will be there for him? I think they are fabulous together. I am really rooting for Grace and Henry to make it.

I did not see Carter and Jo becoming roommates for on a long-term basis. I don't disagree with it, as it does bring out some fun banter and a more tender side to their friendship. I have said for many weeks now how awesome it has been to see Jo growing and developing beyond the kind of cookie-cutter "hot chick with a gun" role that she has been in. I think her and Carter living together is more of that growth. Look at tonight when she told him to get off his butt. She is slowly becoming my favorite character on the show.

So what did you think of the episode? Did you like the crossover between the two shows?  Do you think Claudia would fit in better in Eureka than Warehouse 13?

Jim G. is a TV Fanatic Staff Writer. Follow him on Twitter.

Tags: Eureka, Reviews