Gossip Girl Scoop on Danessa, Rufly
by Steve Marsi at .
With all the Gossip Girl previews and spoilers floating around this off-season, we've heard next to nothing about Rufus and Lily. What's the latest on this Upper East Side couple?
According to EW, "a rat Bass-tard is going to come between them." We're not talking about coming between them in romantic sense, nor are we talking about that sketchy Jack.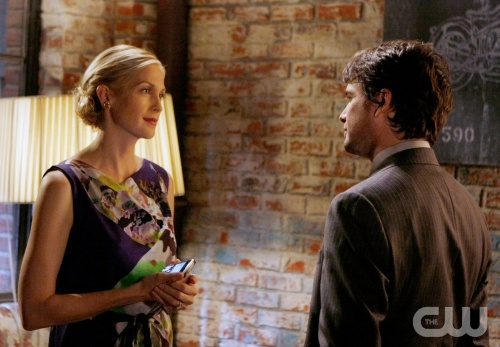 While Lily is more than willing to forgive Chuck for what happened with Jenny, Rufus finds it more difficult to move past it ... and that's before another bombshell gets dropped.

Just when he finally starts to come around, Eric lets him in on a little secret regarding Jenny and Chuck - and let's just say it pertains to an ugly incident from the pilot episode.

It's going to be bad.

As for Rufus' other offspring, the resurfacing of Dan's feelings for Serena in last season's finale threw many fans for a loop. Where does this leave his relationship with Vanessa?

Just fine, apparently. They move in together in the third episode this season!

Jessica Szohr hinted at the complicated nature of their relationship in our exclusive interview with her recently, but moving in together? That's not a wrinkle we saw coming.

Pretty crazy, right? That can't work out, can it? How do you think it pertains to Dan's baby mama drama with Georgina? Share your thoughts on these developments below.

Steve Marsi is the Managing Editor of TV Fanatic. Follow him on Google+ or email him here.

Tags: Gossip Girl, Spoilers
From Around the Web