Amid all the contract squabbles, mergers and the occasional shooting, the doctors of Seattle Grace have seemed to come and go in recent years. That's about to change.
Grey's Anatomy executive producer Shonda Rhimes tells TV Guide that for once, there are no plans to add anymore series regulars into the fold in the coming Season 7.
"We're full up," she says.
The four regulars added in two years: Arizona Robbins (Jessica Capshaw), Teddy Altman (Kim Raver), April Kepner (Sarah Drew) and Jackson Avery (Jesse Williams).
Two other Mercy West transplants were killed in last season's tragic finale. What can we expect from the two who survived? How will they be integrated into the cast?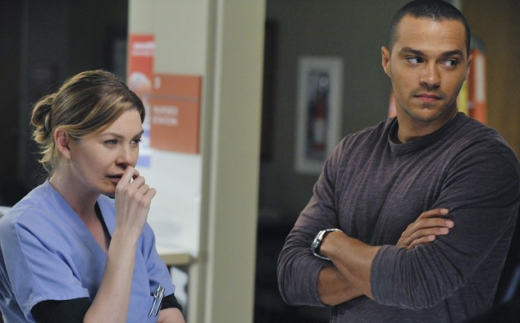 Meredith with newcomer Jackson last season. [Photo: ABC]

Audiences will get to know Jackson and April better after they've moved in with Meredith (Ellen Pompeo) this season. Pompeo reports Meredith and April, whose crush on Derek (Patrick Dempsey) proved nearly fatal, will bond this season, which will help April grown on fans.

Hey, if it fans can come around on Addison, anything's possible!

"Meredith will accept April in order to get the audience to accept her," says Pompeo, who hopes Mer, now the caretaker, will assume the role of teacher as well.

"I feel like Meredith and Cristina are much further along in their careers than April and Jackson. The audience hasn't seen them go through as much training as they've seen us go through. I would love there to be a teaching element as opposed to them being our contemporaries."

We couldn't agree more. Adding new cast members is one thing, but they can't just waltz in and act like they run the place? Even if they already sort of have ...

Thoughts on all the new stars? Too much or just right? Comment below.

Steve Marsi is the Managing Editor of TV Fanatic. Follow him on Google+ or email him here.

Tags: Grey's Anatomy, Spoilers