Jennifer Aniston returning to TV... for at least a half hour.
The former Friends star will reunite on screen with Courteney Cox on the second season premiere of Cougar Town. Executive producer Bill Lawrence confirms to Entertainment Weekly that Aniston will "play [Jules'] shrink, Bonnie."
The character is "kind of a get-too-involved-in-her-life-type of therapist," Lawrence said. "Those guys are so close in real life they kind of do that for each other anyway. Bonnie has the life Jules wishes she has."
In 2007, Aniston and Cox appeared together on TV for the first time since Friends when the former guest-starred on the latter's failed FX show, Dirt.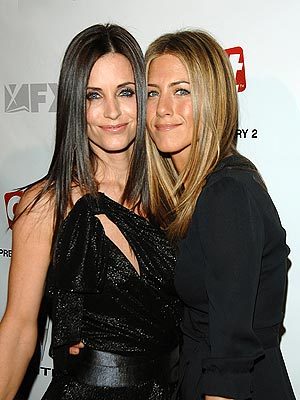 Might Aniston show up again, beyond the September 22 premiere? Lawrence hopes so.

"We're very intentionally implying that it's a therapist Courteney has been using for a while, and we're certainly not going to make it like they'll never see each other again," he says. "So I'm crossing my fingers that if she has a good time it'll happen again."

The return to the small screen comes at a perfect time for Aniston. Her latest movie, The Switch, bombed this weekend at the box office, opening in eighth place. Who out there would not love to see her back on TV full-time?

Matt Richenthal is the Editor in Chief of TV Fanatic. Follow him on Twitter and on Google+.

Tags: Cougar Town, Casting News