Although he hasn't been featured prominently so far on Covert Affairs, that will change on tonight's episode of the USA drama, as Sendhil Ramamurthy - as Jai Wilcox - is front and center.
A few days prior to this new installment of the show, TV Fanatic joined a conference call with the actor. We thank him for his time and present the following excerpts from the interview:
On Jai's father, played by Gregory Itzin: My character's father's name is Henry Wilcox - there's some baggage that comes with being his son and it kind of permeates through the CIA... it's very important for Jai to feel that he is there at the CIA doing a good job on his own merit, not just because he's Henry Wilcox's son or because Arthur Campbell trusts him with specific clandestine operations that not a lot of people know about. 
On Jai's relationship with Joan: It's pretty antagonistic.  She's not very fond of Jay and their interaction kind of shows that.  But... Jai is really good at what he does.  That's not to say that he makes mistakes.  Everybody will make mistakes throughout any kind of mission, but he's so good at his job that Joan at certain points in certain episodes can't help but say, "All right, well done.  You did it right."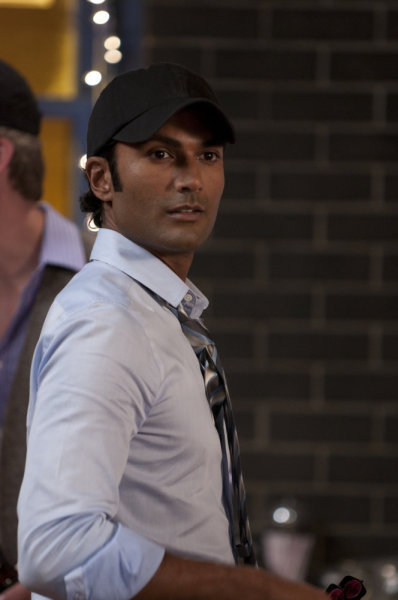 On feelings for Annie: As the season goes on, [Jai] kind of becomes a little bit jealous of the friendship between Auggie and Annie.  They are best friends.  They really are.  There's a trust between them that Annie's character doesn't have with any other character.

On the challenges of playing Jai: For me, it's been a huge challenge just because it's a very different character than what I've been playing on TV before, which I'm excited about.  But it's an incredibly layered character and you're always kind of second guessing because you don't want to give too much away in each scene and so that's something that I've really worked hard at and you don't want to tip your hand too quickly.

Will there be a Heroes movie? I think that it would be great for the fans to have the story wrapped up properly because that finale was a season finale; that was not a series finale and I feel like we owe it to the fans who were incredibly loyal and supportive of us through all the ups and downs of Heroes, it would be nice to do it for them to have some sort of closure.

I don't know if it's going to happen.  If I'm being 100% honest, I don't see how it can, just scheduling-wise it's going to be really, really difficult.  But if anybody can do it Tim Kring will pull it together somehow.

Matt Richenthal is the Editor in Chief of TV Fanatic. Follow him on Twitter and on Google+.

Tags: Covert Affairs, Interviews