The Real Housewives of New Jersey Review: "Don't Drink the Holy Water"
by Steve Marsi at . Comments
Awkward trips to the OB-GYN with one's teenage daughter.
Physical altercations with enemies in the middle of a restaurant.
Christenings that resemble weddings funded by idiots who can't afford it.
Check, check and check on last night's The Real Housewives of New Jersey.
When Teresa and Joe plan a lavish christening party for their youngest daughter, Audriana, Teresa plans an event that is almost wedding-like in cost and appearance.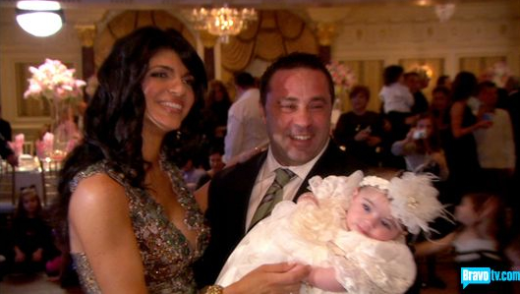 Teresa and Joe Giudice at daughter Adriana's wedding. Er, christening. You should be able to buy the clothes seen in this picture at their bankruptcy auction later this month.

Husband Joe is nervous about their precarious financial situation, given that they are, you know, teetering on the verge of bankruptcy and auctioning off their house.

The reception is, shall we say, as over-the-top as Teresa had dreamed and Joe is not pleased. And one wonders why foreclosure rates continue to rise in our society.

Meanwhile, Danielle takes daughter Christine to the OB-GYN because she wants her to be a good girl, and because she grew up without a mother she could relate to.

The irony? Christine is growing up without a mother she can relate to.

In other Danielle news, Kim G. is beginning to see her relationship with Danielle deteriorate. As if it hadn't before? This is really bad, however. Like, full-on brawl style.

Kim G. confides in Jacqueline that Danielle is not the person she thought she was. Because we thought she was some upstanding, classy woman? Again, we know this!

Jacqueline tries to help Kim G. understand that people think she is two-faced. Week after week, these women go over the same issues, yet we cannot avert our eyes.

The episode ends as Kim G. and Danielle have a fight in a restaurant, their friendship presumably at its end. Well, at least until next week's rumble in Franklin Lakes.

Steve Marsi is the Managing Editor of TV Fanatic. Follow him on Google+ or email him here.

Tags: The Real Housewives of New Jersey, Reviews