Welcome to the latest edition of the True Blood Round Table!
From beginning to end, last night's episode of this HBO favorite was a scream (literally in many cases) and posed more questions than it answered. Below, the TV Fanatic staff weighs in on "Hitting the Ground" in its weekly Round Table Q&A ...
Character you'll miss more: Lorena or The Magister?

M.L. House: Lorena. No more of Bill's maker means no more flashbacks to his life upon immediately being turned. Those were cool.
The Barnacle: The Magister, but only because his scenes with Pam last night were flat out hilarious.
Mrs. Northman: Lorena - she was such a crazy lady. I loved that she was stronger than Bill physically, but emotionally a basket case. Poor dead vampire lady - you will be missed.
ViddWizard: Lorena, some of Bill best insults were directed at her. It was great to see him stand up to her. Now he is going to go into "Oh my god I hurt Sookie" mode and be all pathetic.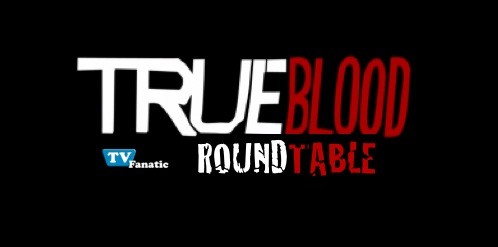 Are Sam's parents gone for good?


M.L. House: Yeah, right. Joe Lee clearly needs new underwear. He'll make his wife go back to the dogfighting circle now and Sam will have to save his mom.

The Barnacle: I wish. Like that horrible mental image of Joe Lee in his underwear, we're never getting rid of them.

Mrs. Northman: Of course not! They will be back and whatever they have up their sleeves will be something else! That's for sure!

ViddWizard: I have no idea, but I hope that Joe Lee gets some new underpants. I don't care if he buys, borrows, or steals them but he seriously needs some new ones.

Should Hoyt go steady with Summer?


M.L. House: No way! Jessica is cuter and has a better personality. Her biscuits may not be as sweet, but her meals have more of a bite to them. (Get it?!?!)

The Barnacle: Absolutely. Any girl that gets Jason's vote clearly gets mine. Say what you will about the idiot, but he's got good taste in women.

Mrs. Northman: How is this even a question?! I really want Hoyt and Jessica to get back together. They were so cute! And Summer? She is just plain annoying.

ViddWizard: Hell yes! Any woman who churns her own butter, make her own preserves, and beg you to to taste her biscuits is worth hanging on too. Additionally, Summer even spruced up the place while letting Hoyt relax and enjoy her biscuits. Jessica is cute, but her idea of sprucing up the place is to remove dead bodies when they start to smell.

What are you getting the King and Queen for a wedding gift?


M.L. House: A nice, new mantel. Gotta mount that chopped-off head somewhere, right?

The Barnacle: It's tough, because I couldn't find any site they were registered on. I guess I'll just have to get them a bigger bird cage. Things looked tight in there for Sophie Ann and we all know wedding gifts are for the wife anyways.

Mrs. Northman: Well, since they both clearly have significant others - perhaps his his & her her matching towels?

ViddWizard: A marriage councilor for Russell. Between Talbot and Sophie-Anne he has two very high-maintenance queens on his hands.

Seriously, what is Sookie?!?


M.L. House: She's a part-time waitress, part-time psychic with powers of light that shoot out of her hands and occasionally take her to a heaven full of tasty water and tiring dancing. What's the big deal?

The Barnacle: Since I have a jerk of a roommate that likes to spoil things from the book I unfortunately already know and will refrain from answering.

Mrs. Northman: I have not read the third book, yet. I have it (borrowed from a friend who probably thinks he will never see it again) and don't want to ruin the show, so I'm reading a season behind. With that said, I have no idea what Sookie is - my guess? A witch of some sort that has light in her? Why does Bill (or any vampire for that matter) want her? Because he can obviously survive being in the sun.

ViddWizard: A light wielding, thought hearing, waitress from Bon Temps. Duh! she already told us this, didn't you pay attention? Hehe.

Steve Marsi is the Managing Editor of TV Fanatic. Follow him on Google+ or email him here.

Tags: True Blood, Round Tables