White Collar Review: "Prisoner's Dilemma"
at . Comments
Last night's episode of White Collar really captured my interest and held in all night long!
So maybe we didn't get any more than just a tiny clue about Kate's death (more about that later on in the review) - but wow! I sure did love the story-of-the-week storyline!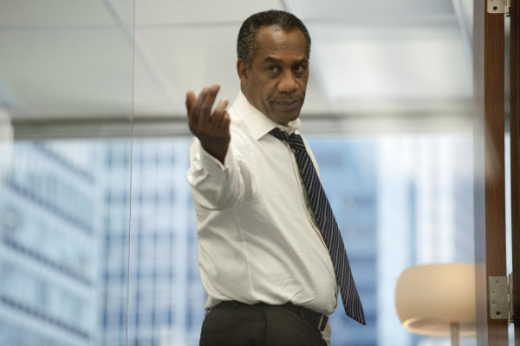 We had a former FBI agent being set up by the bad guy - a US Marshall. Maybe this has been done before, but darnit, if it isn't just fun to watch! Normally, I am not such a huge fan of how White Collar has to wrap up every episode quickly towards the end with a nice pretty bow, but this week, the way they were able to capture the bad guy was fun!
Okay - so you have two bad guys pretty much caught red handed. Peter and Neal were able con both of them into thinking the other is telling the truth. How great is that!? So basically, at the end of the episode, it was their own faults for getting hauled to prison. Good job boys!
"Prisoner's Dilemma" finally brought back Elizabeth from her maternity leave business trip to the Golden Gates. As much as I will miss those cheesy green screen scenes, I am happy that she's back.
It was great watching Elizabeth and Mozz have a "date night". Who called it the moment that Peter and Elizabeth planned that date, it would never happen? In the end, I'm glad it was Mozz instead of Peter because it was just too cute to see Mozzie come to the rescue with a bottle of wine and a movie.
Mozz really has become the star of the show. Each week, he is able to bring the laughs and help Neal solve what mysterious case that needs to be solved - all the while enjoying a nice glass of wine.
Speaking of mysterious cases - we finally find out who Kate called! Well, of course it would be Fowler! The question is why? Do you think she called him because she knew the plane was about to blow up and she would be leaving it? Or was that really the last person she spoke to before she died?
The new boss - Kyle Bancroft really added some fun last night too. It was great seeing him work with Peter and Neal to set up the set-up and he really had me smiling when he went to the museum with Neal at the end. Hopefully, Kyle will become a regular!
Until next week, we leave you with a few of our favorite White Collar quotes:
Neal: You know from the moment I met you I knew You were a man of fine taste. | permalink
Mozzie: It was nice to see you Mrs. Suit.
Elizabeth: It was nice to see you too Mozz. | permalink
Elizabeth: Mozzie? What are you doing here?
Mozzie: Date night. | permalink
Mozzie: You can never trust anyone who spells with dollar signs in their license plates. | permalink
Mozzie: Mi casa es suit casa. | permalink
Mozzie: I knew this day would come - the hunter has become the hunted. | permalink
Neal: Before she became a CI what was she in to?
Peter: She was a car thief.
Neal: Do whatcha do. | permalink
Tags: White Collar, Reviews
Want more White Collar?
Sign up for our daily newsletter and receive the latest tv news delivered to your inbox for free!
More From TV Fanatic
Which characters comprise our 9 Great Summer Bromances? Cycle through the options now and vote on your favorite.
On tonight's Gang Related, Ryan was forced to make a difficult decision. Which side did he chose?
On the latest episode of Satisfaction, Neil learns an important lesson about being honest with himself from Adriana while Grace struggles on her new job. Read on for analysis.
On Rookie Blue, Oliver turns down extending his contract as Acting Staff Sergeant until Duncan's dismissal hearing turns unpredictable. Read on for more.
---