School was back in session on the season three premiere of 90210. We don't simply know this because Dixon and Teddy kept yelling out "Senior Year, Baby!" - but because someone took an eraser and wiped many of the show's storylines clean.
The series started from scratch in a lot ways, manufacturing brand new developments that added to 90210's fluidity problem, yet may prove to be promising if the drama can actually stick with certain developments and see them through.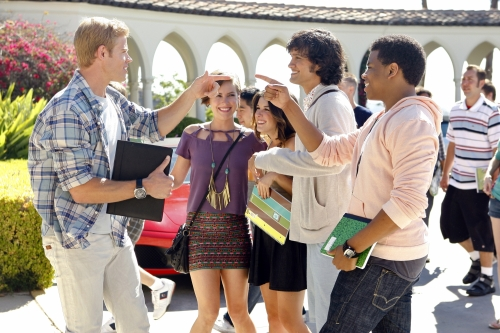 For instance, I certainly didn't see the death of Javier coming (and the show made him a major jerk in about 10 minutes so we'd forget about his demise quickly) but it opens up an intriguing internal dilemma for Adrianna.
Can anyone of us truly say we wouldn't have done the same thing as she did? Or at least thought very seriously about it?
Then there's Teddys' knee injury. We all know where this
character's storyline is going
, so it's more worth noting how uncomfortable he looked in front of Naomi's half-naked body than it is to focus too much on the likely end of his tennis career.
Truth is, the show put Teddy and Silver together far too quickly and there's no chemistry between the pair. I don't care that he's gay and I don't care when they fight. Do you?
I do like Ivy and Dixon, however, which is why I wish the series would let this relationship actually marinate for a bit before coming up with a random obstacle for the two to deal with. Suddenly, Ivy has a male BFF... and she fantasizes about him... and he's sleeping with her mother?!? Ummm... okay. Just seems like a random person to insert into a relationship that I was rooting for to slowly develop.
By far, though, the worst handled storyline involved Annie (big shocker there, right?). We're meant to believe she literally didn't speak to Liam all summer long? She didn't even know about Jasper and his blown-up boat?!? Come on. This was clearly an attempt to manufacture tension in order to build up that supposedly hot kiss between her and Liam. It may be sad but true: that hit-and-run, which went absolutely nowhere, has ruined the character of Annie forever.
Any guesses on what that internship lady is up to? Who did she call and what did they discuss?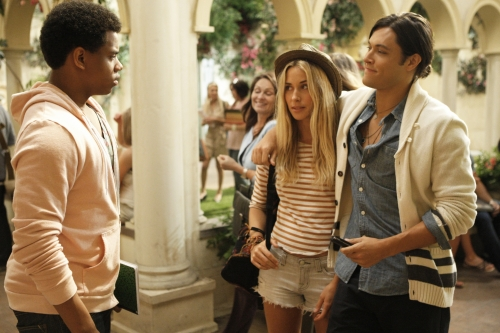 Finally, we get to Naomi. Let's give props to 90210 for giving itself such an ambitious topic to handle as rape. Will it be able to pull it off with the respect and gravity it deserves? We can't judge just yet, but it's making a point of hitting viewers over the head with the messages its trying to send.

For example: In case the striptease was not enough for us to understand that Naomi is in major denial and going to the opposite extreme to compensate for what happened, we got that speech about how sex is just a physical act. It's not hard to see how this will play out: Naomi will come clean at some point, no one will believe her, but then Mr. Cannon will eventually get what's coming to him.

I have no problem with a somewhat predictable storyline, as long as those involved make me care enough about their struggle. I'm sure AnnaLynne McCord is perfectly nice, but my job is to strictly go by what I see on screen - and she just can't pull this role off. She's a terrible actress.

What did you think of the episode?

Matt Richenthal is the Editor in Chief of TV Fanatic. Follow him on Twitter and on Google+.

Tags: 90210, Reviews