Eureka Review: "I'll Be Seeing You"
by Jim Garner at .
The first half of this season started with a time travel adventure, while this week's episode wrapped up the summer with a similar episode, laid beautifully on top of the initial one.
As I mentioned two weeks ago, I had several concerns about what this episode could mean for the season. I was incredibly happy that all of my concerns were groundless and the writers did not let the fans down. In fact, I was so impressed with tonight's episode, that it received my first ever perfect score for a rating.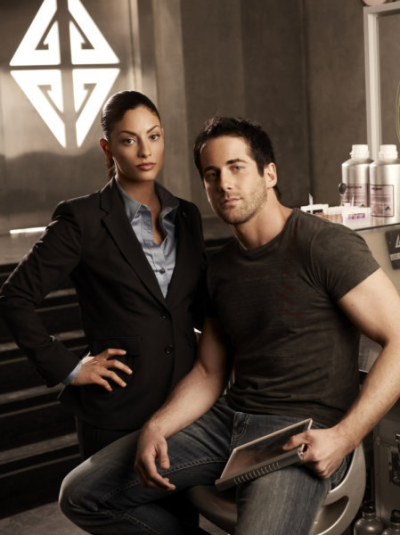 I will admit that I had been a big fan of Tess and Carter together. But I came around after Tess was gone and Allison and Carter started spending some time together to agree that they should be together. However, given what happen at the end of season one, we all had good reason to be concerned that the show would backslide and have Carter and Allison back at "friends" if they sent Grant back to when he left.

Thankfully, Allison and Carter (at least for the moment) are happily still together. Thank you, writers, for being bold and exploring new ideas with them together.

The biggest surprise for this week was Zane figuring out why Jo had his grandmother's ring. After all, he is supposed to be a genius - so it shouldn't have been too hard for him to put it all together. I was again so happy when he and Jo kissed that I actually cheered out loud (I am sure my neighbors think I am nuts). Did anyone else catch how Jo just melted when he spun her around and kissed her? I really hope we get to see more of their relationship growing again when the show returns.

Do you think we have actually seen the last of Grant? Now that he is rich and leaving Eureka, I wonder if he will make cameo appearances on any of the shows. Heck, maybe he could get a job at Warehouse 13; I hear Helena Wells needs a partner. I will kind of miss Grant, I really did like that Carter and Grant had to work together to get back to 2010 and save Allison. It was good bit of writing, seeing it come full circle from fighting each other to depending on each other.

There were a couple of things I didn't totally follow about Grant in this episode. First, Adam Barlow was supposed to go back to 1939 and stop the atom bomb from being created, yet the bridge device was not working at all at that point; that seemed out of place. Second, how did Grant get a baseball signed by Jackie Robinson if he disappeared right after the first game Robinson was in? Oh well, those are minor questions and I am sure someone will post a very reasonable explanation to them both along the way.  

Remember: Eureka comes back with all new episodes in December and TV Fanatic will be covering them each and every week.

Jim G. is a TV Fanatic Staff Writer. Follow him on Twitter.

Tags: Eureka, Reviews
From Around the Web