Can Kale Ingram be trusted?
That's the most pressing question for Rubicon viewers these days, as Ed gives his opinion on the matter to Will this week in two simple words: Hell. No.
Later on, however, in a conversation with Maggie, Kale goes as far as to say he's a "guardian angel" to the show's main character, telling this to someone who we've been led to believe he has an open (albeit shady) relationship with.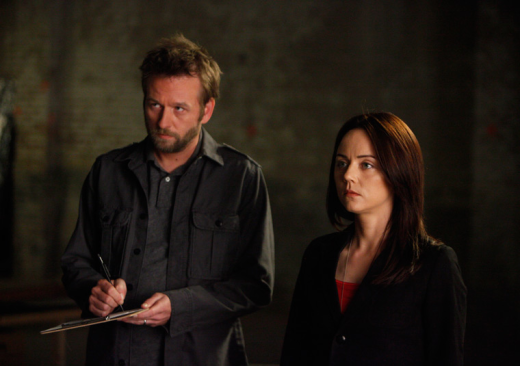 If Rubicon has imparted any lesson on fans so far, it's that the world inhabited by API is morally grey. These vastly intelligent individuals are brought to the brink each week due to the life-and-death situations they handle on a typical, occupational basis.

There's rarely a simple, right answer, which leads me to believe that Ingram could be a man Will should not easily trust - and his guardian angel. What makes the character so intriguing and mysterious is how, whichever side Kale is actually on, he clearly takes pleasure in his manipulative ways.

We get to see Tanya and Miles interact outside of the office, as well, in a side storyline that proves this series could stand on its own even if there were no overarching conspiracy hanging above it.

It's interesting to simply see the stakes that are an integral aspect of this world, specifically the toll they take on analysts. Ed was sent over the edge again when confronted by Kale, while Tanya is comforted at the end of the episode by Spangler's advice about rehab.

But does she even want to remain at API for a "long, long time?" She's a smart woman. She can see what the place does to people and their relationships (Miles opened up about his marriage). For an installment that focused heavily on sacrifices individuals must make for the greater good, it's a question worth pondering:

How far does one go personally in the name of a grander mission, especially when one can never be certain about that mission's outcome?

Matt Richenthal is the Editor in Chief of TV Fanatic. Follow him on Twitter and on Google+.

Tags: Rubicon, Reviews