Tim DeKay Speaks on White Collar Finale, Previews January Return
by Matt Richenthal at .
Is Mozzie dead? That's the question White Collar fans are debating following this week's shocking summer finale conclusion.
In an interview with The New York Post, star Tim DeKay pretty much answers this question, whole looking ahead to the show's return in January. Excerpts are below...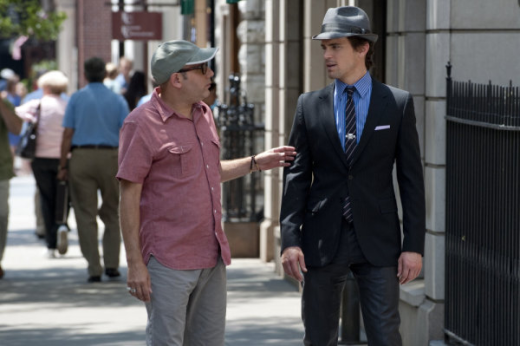 What was your reaction to Mozzie getting shot in the finale's final moment?
When I first read it, I thought, "finally, I don't have to work with Willie Garson any more!" [laughs] No, when I first read it I thought two things: one, that is a hell of a cliffhanger, but in terms of the story, it made me realize that whatever is behind this music box – or whatever it leads us to – has to be some phenomenal thing.

Should Mozzie fans be worried?
I'm not one to answer that. Suffice it to say, there is a very interesting resolution in January.

Will new episodes pick up where we left off?

Yes, chronologically we pick up right after that shooting and the season will keep chugging along. There will be episodes that address the mythology heavier than others, while others will just be lightly touched upon, the way the first half of this season went.

Will we see more of Julian Larson?
Yes, but as Fowler has said, there are bigger people pulling strings. That character will be back – we'll meet him again – but we'll meet other characters who are part of that tangled web.

What other spoilers can you reveal?
Fans can look forward to more interesting capers that challenge and examine Neal's relationship with Peter in both a comedic and dramatic fashion. As far as the anthology of the music box, there are some very interesting plot twists coming up. And also, we are going to have a flashback episode. That will give us some answers as to what is going on with the music box and what it could lead to.

Matt Richenthal is the Editor in Chief of TV Fanatic. Follow him on Twitter and on Google+.

Tags: White Collar, Interviews, Spoilers
From Around the Web