Warehouse 13 took viewers back to 1961 this week. Read our review of the latest episode and then settle in for the latest edition of the TV Fanatic Round Table.
As always, reader reaction to the following topics is encouraged...
What was your favorite Warehouse 13 quote from the episode?
ViddWizard: "The ink in which our lives are inscribed is indelible." Helena said it so well: we can't change the past no matter how much we try.
Warehousefan101: The quote that stood out to me the most was the one H.G. Wells said: "I got a gold star!" It was very... first grade! It made me laugh. And then Pete wanted one. I love the writers of this show!
ARochelle: Mrs. Raite: "I wish you'd loved me more." Mr. Raite: "I wish you'd loved me less."
Enoyhs: Two quotes/actions: First, I loved how Pete was obsessed with Gold Star system; and second would be the good old trick on how to get electronics to work (hitting them).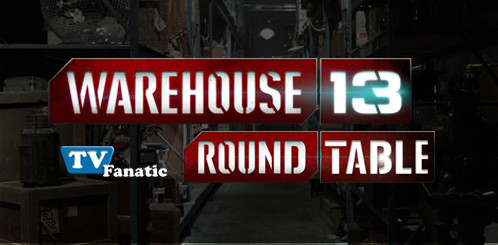 Would you rather work for Artie in 2010 or Charlie from 1961?
ViddWizard: I actually will pick Charlie for 1961. While he is a bigger smartass, he never leaves you guessing where you stand.

Warehousefan101: Artie for sure. While he can be a bit uptight, he is not always like that. He can be "hip," too, or at least he can try to be.

ARochelle: I don't really know enough about Charlie, so I'd have to go with Artie. Besides, I like Artie.

Enoyhs: Even though Artie has been a pain in the ass for last couple episodes, I still would prefer him as my boss. I've something against those guys in 60's.

How many movies can you name that were made referenced in this episode (and name them)?

ViddWizard: Two.

Total Recall

and

Bill and Ted's Excellent Adventure

. Was the Russell Crowe comment a movie or real life?

Warehousefan101: To be honest, I was so engrossed in the episode that I must have missed those completely. But with the writers that show has, I am going to say I think they had a fun time putting the ones in that they did.

ARochelle: I can only think of two: Total Recall and The Time Machine (although I don't know that the "movie" was actually referenced).

Enoyhs: To my utter disappointment, not so many. I know there was Get Smart. But there were several interesting other references: butterfly affect, Sports Illustrated and of course Arnold's voice, and you must not forget several time travel movies (Back to the Future for one).

With whom would you rather partner: Myka, Claudia, Pete, or Helena?
ViddWizard: Helena. Not only does she have awesome gadgets, her accent could melt butter.

Warehousefan101: It would have to be between Pete or Claudia. Pete just has a good energy and even in the most horrible of situations he will find a way to make it funny/look for a joke. With Claudia, I wouldn't mind seeing her in action using those mad "techie" skills.

ARochelle: Tough one! Probably Myka, you know she's got your back AND she's smart.

Enoyhs: I would love to be partners with Pete, if you meant agent-wise... otherwise, Helena!

The preview for next week says an agent dies. If you had to pick an agent to write out, who would it be?
ViddWizard: I will get flamed, but I am going to say Myka. She is the least interesting character. Claudia, Pete, and Helena all have incredible back stories and baggage to build on. Myka has been kind of "blah" lately.

Warehousefan101: H.G. Wells. I like her character and I'm sad they brought her in only to use her so little, but if one was to kill off Artie, Pete, Myka, or Claudia, you would lose a ton of viewers.

ARochelle: H.G. Wells. Because next week is the beginning of the two-part finale, they could have H.G. go out with a bang. Let's face it, we know and love the other agents. We don't want any of them to be killed. They might bring some former agent back and that's who they're referring to killing off.

Enoyhs: Can we introduce new/old agent and kill him/her? But if I really had to choose, I would say bring MacPherson back and kill him again? No, to be honest, I can't choose, I always hate when they kill someone off.

Matt Richenthal is the Editor in Chief of TV Fanatic. Follow him on Twitter and on Google+.

Tags: Warehouse 13, Round Tables