I think 30 Rock might be back.
This week's episode, "When It Rains, It Pours," had a bright spot within every story line, connected on a multitude of jokes, and involved a number of funny guest stars.
About two thirds of the way through, I thought, how am I going to be able to choose quotes from this half hour? Between Tracy's time in the Cash Cab, Jack spitting out random advice, and Dr. Spaceman's brilliant return, the punch lines didn't stop this week.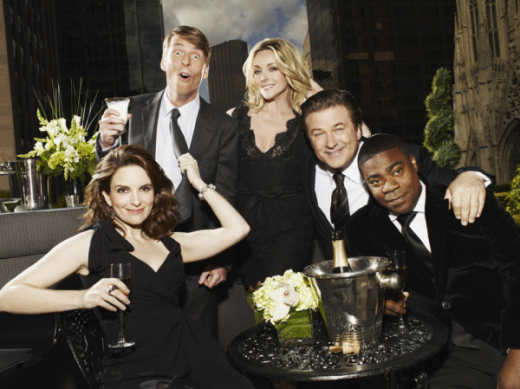 As much as I enjoy the fact that Jack and Liz have such an interesting relationship, I'd much rather watch them do their thing separately. Jacky D was fantastic as he just spewed out line after line to the camera about what he has done in the past, and what his future kid should do in the future.
Take, for example, this gem: "After I'm gone you're mother might meet someone else.  I want her to be happy so his death must appear to be accidental."
It is so nice when Tracy compliments his utter stupidity with strange intelligence.
It doesn't happen very often, so cherish it when you get it. Tracy discussing how he came to the correct answer on every single question never got old. Both because his explanations were hilarious ("FYI, they're very difficult to keep in a home aquarium.") and I can't stand when contestants do that on actual game shows.
Oh glorious Dr. Spaceman, thanks for coming back.  For the past couple months I've been watching Chris Parnell do a slightly different version of this character on the Comedy Central show Big Lake.  His ability to say the exact opposite of what should come out of his mouth is nothing short of brilliance.  I mean seriously, what kind of doctor uses a meter to park his car at the hospital?
While Liz had her moments this week, her partner in crime didn't do it for me.  Paul Giamatti's guest performance was the only part of the ep that didn't excite me.  I didn't laugh at him, and was absolutely uninterested in his love life.
And now for some more of our favorite 30 Rock quotes from the episode:
Tracy: I don't get why people like brunch. What's the benefit of combining break dancing and lunch? | permalink
Tracy: Why's that baby covered with goop?
Dr. Spaceman: Because everything about this is disgusting. | permalink
Jack: After I'm gone, your mother might meet someone else. I want her to be happy so his death must appear to be accidental. | permalink
Tracy: She is a orca, Benjamin. And FYI, they're very difficult to keep in a home aquarium. | permalink
Tracy: Centennial is a hundred years, because centipeding means having sex with a hundred women. | permalink
Pete: You got sauce on me. Ya know, neighbors who wear my exact size don't die every day! | permalink
Frank: You know, if you wanted to cheat on Carol with an Italian dude who smells like cigarettes, I've made it very clear I'd flip over my futon for you. Not cool! | permalink
Tracy: So for me to be there at the birth of my daughter, I have to answer trivia questions despite having gone to middle school in an Exxon station?
Ben Bailey: Yeah. | permalink
Tracy: Wow, it's like I always say...white cab drivers are weird! | permalink
Jack: ...and then attended Harvard Business School where I was voted, Most. I once hit a stand up triple off Fidel Castro. I was the first person ever to say, I need a vacation from this vacation. The song "Your so vain" was in fact written...by me. | permalink
Dr. Spaceman: Mrs. Jordan, I've already administered the epidural, so would you like one as well? | permalink
Dr. Spaceman: Full disclosure, most of my experience is putting babies in women. | permalink
Tracy: If I were a real werewolf I'd wear baggy clothes so my nice clothes wouldn't get all torn up. | permalink
Liz: You comin' downstairs?
Jack: And stand outside in a crowd like some Italian? I don't think so. | permalink
Tracy: And good for you Liz Lemon. There's something about you lately... makes me want to put my feet in your mouth. | permalink
Dot Com: Also we took Tracy's cell phone, his wallet...
Tracy: ... and my mood ring! And I don't know how I feel about that. | permalink
Tracy: Well, I'm embarrassed to say I've missed the birth of both of my sons... for very legitimate reasons.
Dot Com: Cooking a French bread pizza and forgot. | permalink
Dan Forcella is a TV Fanatic Staff Writer. Follow him on Twitter.

Tags: 30 Rock, Reviews
Want more 30 Rock?
Sign up for our daily newsletter and receive the latest tv news delivered to your inbox for free!
More From TV Fanatic
Cindy's husband ends up dead and that forces the police into overdrive. Will his confession hold up?
On tonight's Under the Dome, Rebecca wants to release a deadly virus into the population. Will she do it? And how many would die?
Fritz is offered a new job with the LAPD on this episode of Major Crimes. Read on for more.
Joss tries to stop Harry from going back to Australia, Karen faces a dilemma involving her lover and a patient, April has a crisis of conscience and Savi says goodbye to her home on Mistresses,
---