Cougar Town Review: "You Don't Know How It Feels"
at . Comments
Halloween may be one of my favorite times of the year, but it clearly isn't for Jules. At least, in the beginning it wasn't. 
Before we get to the review, let me take a second to point out this weeks new title: Titles Are Hard Cougar Town. Each week, the writers come up with something to trump the previous week, which is pretty awesome. How long do you think this little charade will last?
As far as I'm concerned, hopefully all season long!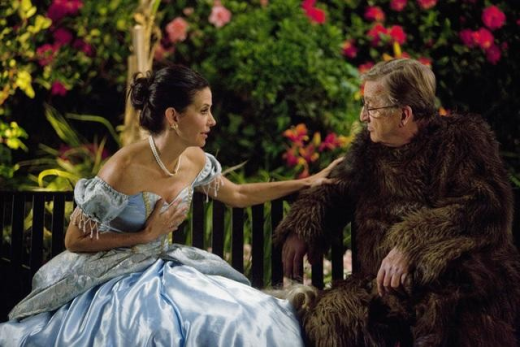 Jules's father, Chick, comes to visit the gang for Halloween in "You Don't Know How It Feels."
I loved the way he just automatically fit right in! From the penny can game, to the heavy drinking, scaring Trav, and jamming out with Grayson, it was like he was made to be a part of this weird crew.
Hopefully, this will not be the last we see of Chick. Who knows? Maybe he can have a fling with Barb. Wouldn't that be something hilarious?
It amazes me that a half hour comedy can choke me up the way that this show has time and time again. Maybe that's a reason why I love it so! When Jules saw the bear reach out to hug her, I got a little misty-eyed. Especially when they were able to open up and share their feelings.
All mushiness aside, this show still makes you laugh out loud.
How great was it that Laurie showed up to the Halloween party as Ellie - and vice versa?  As great of a job that Ellie did, she reminded me more of Miley Cyrus. But, boy did Laurie nail it! Everything from the outfit, glass of red wine, and smug look on her face when she told Jules:
Laurie: (pretending to be Ellie) Jules, I can say you look beautiful, because you're the only one I'm nice to. | permalink
Pure genius! I really thought she was the best dressed...until Trav showed up as Andy! That was freaking amazing. Something about these two is a bit on the peculiar side, don't you think? Maybe one day in the distant future they will get it on? It wouldn't surprise me because Laurie is a bit boy crazy. 
The storyline between Bobby and Ellie kind of bored me. It almost felt like a filler and used as a prop to make something happen here. Are we really supposed to believe that Bobby cares that much about being the guardian of Stan? He can barely take care of himself.
Overall, I really loved this episode because of Chick and his interrelationships with the whole gang, especially his father/daughter relationship with Jules. That one hit home for me.
What did you think of this Halloween special? Let us know below!
Until next week, here are a few of my favorite Cougar Town quotes from last night:
Jules: Hi Barb, what are you a shredded wheat?
Barb: Hah. No. I'm a haystack. Hey fellas, who wants to roll around in the hay!? | permalink
Jules: (to creepy Panda guy) You get some Ling Ling! | permalink
Andy: (to Ellie) Great, you made him blow away sad. | permalink
Chick: That's a fun way to say good-bye, Peace! | permalink
Chick: Every house should have a jam room, don't you think? | permalink
Chick: Ding a ling a ling...
Jules: That's my cue since I was four. I had to use both my hands.
Laurie: Awe how cute. | permalink
Jules: Ellie Torres, I'm fixing to get mad at you.
Ellie: Really, are you fixing?
Jules: Damn it. | permalink
Ellie: (to Laurie about the pumpkin) Wow, it's like you on a Saturday night. | permalink
Tags: Cougar Town, Reviews
Want more Cougar Town?
Sign up for our daily newsletter and receive the latest tv news delivered to your inbox for free!
From Around the Web
More From TV Fanatic
Dina Manzo returned to The Real Housewives of New Jersey Season 6 Episode 1 and she's feeling pretty zen. We recap her best lines, the return of the Guidices, and the newest Jersey girls in our +/- review.
On Halt and Catch Fire, Joe's past catches up with him. Gordon goes a little crazy at home.
On the season 2 finale of Devious Maids, Marisol tries to convince Nick to make things right after he shares his secret. Check out our review to find out more!
On Food Network Star Season 10 Episode 7, the contestants hit Sin City and must whet the appetites of partygoers at Caesar's Palace.
---