The death of a loved one affects people in many ways.
Over the first few episode of this season, Dexter Morgan has struggled with how to react to Rita's death, trying to manufacture the sort of humanized grief normal for someone in his situation.
But Dexter is anything but normal, of course, and "Beauty and the Beast" finally showed us the profound way in which the loss of his wife has gotten to this man: it's made him ignore Harry's Code.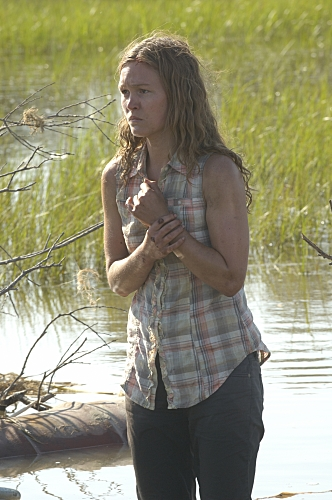 Correction, actually: it's made him alter Harry's Code. In an early scene with his late father, we see Dexter mix up the first rule ("Don't Get Caught") with the idea of not letting an innocent die.

This, evidently, is how a blood-obsessed serial killer mourns. He might not shed any tears at a funeral, but he sub-consciously changes the life philosophy that has allowed him to survive. And we learned at the conclusion of this episode that such a take on innocent lives will have far-reaching consequences for Dexter, as Lumen seems intent on getting Boyd-like revenge on all the men that left her battered.

I didn't anticipate this development, and I'll reserve judgment on my feelings toward it until we see things play out more.

My initial reaction to the episode, however, is that there's not enough at stake in Dexter's world. As I've mentioned before, the show is at its best when Dexter is forced to out-think an adversary in order to remain alive and/or free. We saw that with his psyho brother, then Doakes, then Miguel Prado and finally Trinity.

After four hours of season five, though, we continue to see Dexter as more of a thoughtful, confused individual than a quick-thinking murderer attempting to stay one step ahead of those around him. This new side is understandable, given Rita's death, but it's not too exciting to watch.

Even though the concept of a fellow policeman suspecting Dexter has been done before, I'm still hoping the pace of Quinn's investigation into Kyle Butler picks up. We need something to jolt Dexter into action.

As for everything else in the episode? Eh. Deb is disturbed over the confrontation with one of the Santa Muerta killers, and Maria might be in trouble for sleeping with underlings. Is anyone remotely invested in either of these storylines? They feel like nothing more than fodder to save Michael C. Hall from being in every scene.

What did everyone else think? Does the pace need to pick up, or are you satisfied with sitting back and letting the unusual Dexter/Lumen relationship play out?

Matt Richenthal is the Editor in Chief of TV Fanatic. Follow him on Twitter and on Google+.

Tags: Dexter, Reviews