Late last month, Laura Innes spoke to TV Fanatic about her character on The Event and what we can expect as this season progresses.
Now, co-star Jason Ritter has done the same, as he previews what's on tap for Sean and gives us an idea of whether or not The Event will actually take place this year...
Does Sean know more than he's letting on?
Not about the conspiracy or the detainees. At this point his mind is spinning and he's certainly trying to put the pieces together of how a plane can disappear and show up across the country a few seconds later, and so his mind is being opened... he's the character who's learning about everything as it goes along, just like the audience.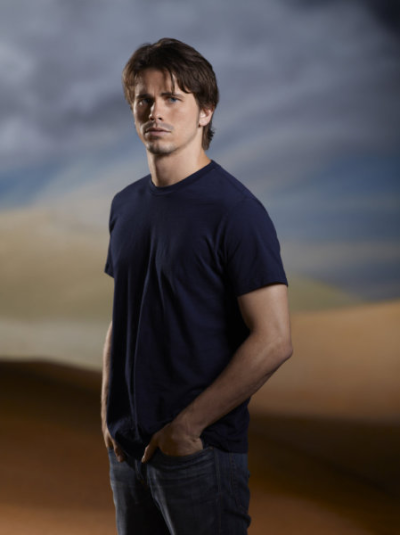 Will Sean and Leila ever reunite?
I can say that at the end of episode five, it's a completely different show. There are things that, having been a big fan of Lost and looking back and seeing the clear structure of each season and they don't get into the hatch until season two, etc. There are things that I thought were going to be season-long in the pilot that are just totally resolved by episode five. It's exciting. There's definite forward momentum.

When you get the script, do you ever skip right to the end to find out what happens?

I don't anymore. When I was growing up, I went through an Agatha Christie phase, and I just loved reading all of her mysteries. There was one time when I skipped to the last page and it did ruin it for me, and the book was just so horrible because I knew the whole time who the mystery person was.

I've learned not to skip to the end, but I certainly love reading the new episodes. I've learned that if I get it at work, I have to stay at work. I can't drive home with it in the front seat because I'll try to read it on the highway, and that's not safe for anyone [laughs].

Is The Event going to be revealed this season?
I'm not sure, I think it might be. I know that the creator, Nick Wauters, started thinking about this four years before it got picked up, so he had a whole idea of season one through four. I know they have these general broad strokes for the show and the structure. There's a lot of story that Nick wants to get to that takes place after The Event, so it's not something they're going to do on the series finale because there's only so much story he wants to tell before the event needs to happen and then we all have to deal with the aftermath.

Without giving much away, what can we look forward to?
I'm so excited for the next couple of episodes to air! In last week's episode, you found out more about my character's past, which hadn't been hinted it. The one thing you learned was about his computer skills and that he went to MIT on a full scholarship but you don't know his home life, and what lead Sean Walker to be the driven young guy that he is. In next week's episode, you learn a lot about Taylor Cole's character, Vicki, which is exciting. It's always nice when you only get to see one or two sides of the character and then all of the sudden your understanding of them deepens.

Tags: Exclusives, The Event, Interviews, Spoilers