Did a lack of a tribute and a lack of a theme actually contribute to this week's Glee episode ranking as the best of the season?
That's one of the questions we tackle in this edition of the TV Fanatic Round Table...
What was your favorite quote from the episode?
M.L. House: Brittany was so funny, she made me barely miss Sue Sylvester. My favorite of all her one-liners? When she told Artie she thought he was a robot.
LJ Gibbs: Finn's response to Kurt claiming he had problems with gay people: "I have issues with the fact that you don't understand that 'no means no.'" I was thrilled the show went back and revisited this plot from last season.
The Barancle: Good call, LJ. This was a strong Finn episode all around, so I'll give him props for his subtle, yet hilarious, line about his love life to Sam: "I'm with Rachel now. She's a lot shorter than Quinn and she talks a lot, but I love her."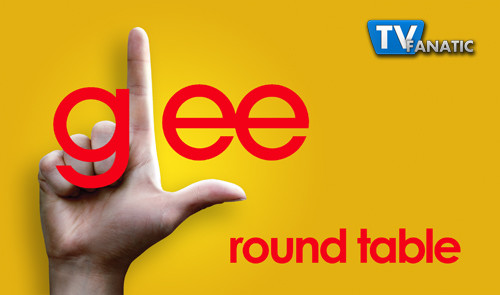 What was your favorite song from the episode?
M.L. House: Mercedes and Santana made for an unexpected tandem and I loved "River Deep, Mountain High."

LJ Gibbs: I have to go with Tina and Mike's version of "Sing!" I could watch that guy dance all day long. It wouldn't even have to be an Asian dance.

The Barancle: "Lucky." Sorry, Puck, but I'm fully on board the Suinn train. Just one episode sold me on Sam and Quinn.

Was this the best episode of the season?M.L. House

: Definitely.

Glee

has created great characters, but it doesn't always use them well. The Britney episode was nothing but an excuse to showcase her songs, and "Grilled Cheesus" had to concoct an extreme situation in order to lay on a heavy-handed message. But "Duets" was fun and emotional and didn't feel forced in any way.

LJ Gibbs: I enjoyed the season premiere better. Coach Beiste was a great addition to the cast and I hope we see more of her.

The Barancle: Sure, it felt contrived and didn't really represent top-notch storytelling. But I'm a Britney lover, what can I say? Heather Morris was amazing that week.

Should the show have made a reference to "scissoring?"
M.L. House: Wow. We're getting deep and controversial here, huh? I'm a liberal guy, but I say no. It was simply unnecessary in the scene. It's cute to have Santana and Brittany flirt and joke about the occasional same-sex hookup. But to actually go this far and mention such a graphic act? It didn't advance the plot and was simply a tad too much for the family hour of 8 p.m.

LJ Gibbs: Probably not, for most of the same reasons cited above by Mr. House. Sex is clearly a relevant topic and I'm happy the show tackles it in a typically responsible manner. But Brittany was involved in this scene and slept with Artie like a half hour later?!? She is only supposed to be 16, right?

The Barancle: I think it's fine because it was so subtle and went over the heads of anyone too young to understand anyway. But I have to wonder: would the show depict a similar scene with Kurt and a guy and make a reference to "69ing?"

Matt Richenthal is the Editor in Chief of TV Fanatic. Follow him on Twitter and on Google+.

Tags: Glee, Round Tables