Welcome back to another edition of TVF's Gossip Girl Round Table, where our panelists break down Monday's episode (see our review of "Easy J" from this morning).
Below, chief Gossip Girl critic Mister Meester joins TVF shot-callers Gossip Guy and DANdy for a discussion of GG quotes, plot holes, raccoons, schemes and cleavage ...
~~~~~~~~~~~~~~~~~~~~~~~~~~~~~~
1. What was your favorite Gossip Girl quote from last night?

Gossip Guy: I quite enjoyed Jenny comparing Chuck and Blair to the level of the Cold War with their mutual destruction.
Mister Meester: Chuck, in full-on raspy-voiced scheming mode, telling Dan that he should be a writer. Unlike Blair at the NYU party, he surely knows Dan is. I also liked Lily's "reverse psychology," which was really just stating facts about S.
DANdy: Blair comparing her underlings' lack of accomplishments to Congress. So sad, so true. Penelope does bear an eerie resemblance to Nancy Pelosi.
2. Jenny's short-lived comeback: Good times or good riddance?

Gossip Guy: Good riddance. Jenny's little comeback just felt like deja vu. How many times do I need to see Daddy Dan lecture her on how she shouldn't stoop to Blair and Chuck's level? Girl shouldn't even be mentioned in the same sentence as them.
Mister Meester: Good times. People have their issues with J, and plenty of them have merit. But let's face it, she kicked the drama up an extra notch, only to one-up Chair, hit the road again and leave us wanting more. Well, us meaning me at least.
DANdy: Wait, that was Jenny?!? I didn't recognize her without six gallons of eye make-up on.
3. Most unbelievable: Juliet's brother texting from prison, Tim Gunn's acting job when he ended Jenny's interview, or Serena's chest?
Gossip Guy: Haha, thank you Mister Meester for asking this question, because the second I saw the text during the episode I was waiting to bring this up in the round table. Then I saw Serena's chest in that outfit. Then I forgot the question. 
Mister Meester: Triple tie? The minions' hijacking of J's dresses deserves props, but Tim's feigning shock over them does not. Texting from prison? Hilarious. Lil Wayne was thrown in solitary for sneaking headphones in there and Ben's just Blackberrying up a storm?
Finally, as for Serena's chest ... let's all just give a round of applause to the show's costume department, shall we? And to Blake Lively's parents. Great work.
DANdy: The texting from prison. I've heard of minimum security, but never maximum minutes!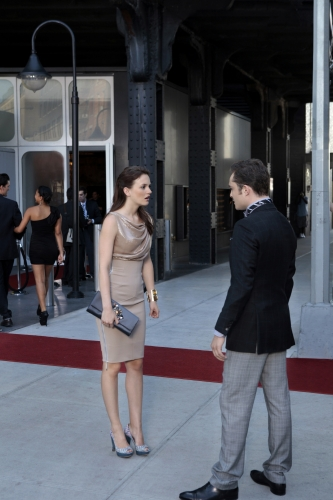 OH, IT HURTS: Chuck set out to destroy Blair, and pretty much succeeded. But seeing what he did, coupled with a stinging rebuke by Jenny, left him wanting to call off the war.


4. The Colin-Juliet connection: Great twist or too many plot holes?


Gossip Guy: Great twist. So did Colin just buy Serena? If so, get me Juliet's address, cause I will send her a blank check.

Mister Meester: If nothing else, the writers have kept me intrigued for six weeks now regarding Juliet. I just hope the payoff is worth it and can make up for several obvious, dubious questions, such as how the heck Juliet and Colin both ended up at Columbia.

DANdy: It was a great twist with too many plot holes. In other words: it was exactly why I watch Gossip Girl.

5. Will Chuck and Blair really call a truce?


Gossip Guy: Sure, until one of them finds a new significant other. Or until November sweeps next month. Then you better believe all hell will break loose again.

Mister Meester: I predict a lengthy document ironing out the terms of their peace treaty. Then I predict said document will be pushed off the table they have sex on.

DANdy: Yes. Then they'll call a car service and get it on in the backseat as a form of reconciliation. We know how much they enjoy it that way.

What do you think? Sound off in the comments!

Steve Marsi is the Managing Editor of TV Fanatic. Follow him on Google+ or email him here.

Tags: Gossip Girl, Round Tables