Wow. Shonda Rhimes wasn't kidding when she teased that tragedy was coming to Private Practice - a series hardly a stranger to dark story lines already - in the next few weeks.
Now it's out of the bag: A major character is going to be raped.
We know who it is, too, courtesy of the long interview the actress just gave to Entertainment Weekly. If you have a weak stomach and/or want to be surprised, turn back now.
If not, proceed for the shocking details ...
Charlotte will be attacked and raped by a deranged patient October 28.
The vicious attack, perpetrated by a patient played by former Buffy the Vampire Slayer star Nicholas Brendon, kicks off a season-long storyline that, not surprisingly, will touch every character on the show in one way or another.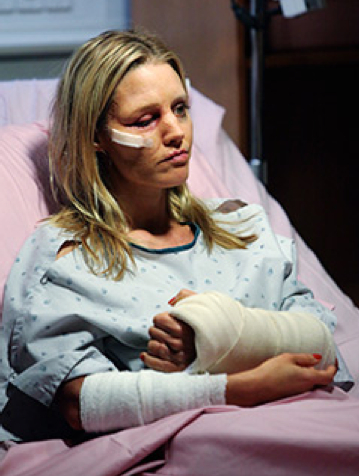 "A lot of violence against women on television is from the point of view of law enforcement," says executive producer Rhimes, "as opposed to standing in the shoes of the actual victim and seeing how it is for them and the people around them."

To that end, the November 4 episode will be unlike any previous hour of Private Practice in that it will revolve solely around the immediate aftermath of the attack on Charlotte.

"It takes place all in one night, and it's [set] almost entirely in the hospital," reveals Rhimes, who penned the episode. "And there's almost no music. It's a fairly silent episode. It's a compelling, painful episode. The work KaDee did in it was amazing."

Speaking of KaDee Strickland, here are portions of her Q&A with EW ...

On how she responded to the idea when pitched to her: "I was thrilled. I was so on board. It's funny, we were at a table read and I gave Shonda my usual hug and 'what's up?' and she said, 'I'm going to do something with your character this season and it's huge and you'll know soon.' And I'm like, 'Are you kidding me?' Once she saw the look on my face she said, 'We are going to have Charlotte be raped this season. Are you okay with that?' And my response was, 'Hell, yes. Let's do it. Let's go. I'm in.'"

"There's something wonderful about playing a character for four years and then have her completely turned on her head. Creatively, it's a real gift for an actor. I also knew that this would reach so many people who have either experienced it or have been close to people who have experienced it. The only thing I said was that we have to get it right. Shonda was totally on board with that."

"It was amazing. It's a page-turner. It doesn't feel like our show, and I don't say that with any negativity toward our show. It almost feels like a movie in some ways."

On how this differs from other TV rape stories: "Shonda poured her heart and soul into getting it as accurate as possible. And it is. I mean, it's legitimately very accurate. We worked very closely with RAINN (Rape, Abuse & Incest National Network) on this."

"Also, we in no way are going to let this thing just go away in four episodes. Charlotte will be living with this for as long as she's a character on Private Practice."

Over the past three seasons, Charlotte has been slowly tearing down the walls she built up around her. She's less closed off than she was in the beginning. Is she going to revert back to old Charlotte now?

On not using a stunt double for the attack itself: "No way. I wasn't letting anybody else step into those shoes. I would've been heartbroken if anyone suggested it. We had a great stunt coordinator, and we gave [Nicholas Brendon] full permission to go for it. I didn't want to act around it and play around with it. I wanted make it as realistic as possible."

"I definitely wasn't unscathed. And I don't think [Nicholas] was either. Let's just say that the day after, the makeup artists had a few legitimate bruises to cover up."

On the impact on Charlotte and Cooper's wedding plans: "Derailing things with something like this is a lot more interesting than [one of us having] an affair or [getting] cold feet. This is very real. Do I think the wedding is off? I don't. I think that you're going to see Charlotte and Cooper as you've never seen them before. Charlotte leans into Cooper in a way that I don't think she has ever in the history of the show."

What do you think? Are you looking forward to watching the drama unfold in this story, tragic and unsettling as it may be? Is Shonda pushing things too far? Discuss below.

Steve Marsi is the Managing Editor of TV Fanatic. Follow him on Google+ or email him here.

Tags: Private Practice, Spoilers