Lie to Me Review: "Dirty Loyal"
by Jim Garner at .
This week's episode of Lie to Me exemplified the new direction the series has taken - and I love it.
From Lightman teaching Wollowski to lie, to Lightman and Gillian disagreeing on Wollowski's true intentions; loyalties were truly tested on the aptly-titled installment "Dirty Loyal."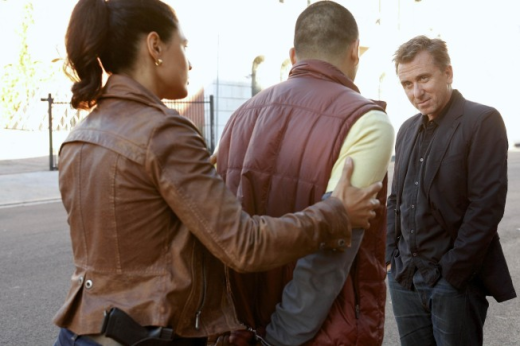 The hour just confirmed how much I like Wollowski, specifically her relationship with Lightman. Case in point: take the scene where they both went into defense mode just before her home was about to be broken into by gang members.  They barely spoke to each other and knew exactly what the other was going to do. From there, we were treated to the sensual aspect of Lightman coaching her on how to lie.

The looks these two exchanged during it said it all.

Meanwhile, I'm glad that we are rid of Detective Farr.

While he hadn't been seen much this season, he was pretty vile in the season two finale. Maybe I'm just bias because I have enjoyed how different Wollowski has been without him. But, then again, he was willing to let Wollowski go to jail for murder to protect his murderous gang-banger son, so maybe the guy just sucks.

Lightman and Gillian both showed us two different interpretations of loyalty. Lightman showed how you stand by someone even when they make mistakes and help them any way you can. Gillian showed us how you do what is best for someone, even if it means hurting them for their own good. While many people will debate which of these is better, the truth is they are both correct. Of course, in Lightman and Gillian's case, I think these acts of loyalty may have created a small rift between them, but I really hope not. 

I was surprised we didn't see anything of the intern that is helping Lightman with his book or Emily.

This in no way took away from the story; it is more of an observation. Given how much personal time Wollowski and Lightman are spending together, I thought Emily might have feelings on the situation.

What did you think of the episode?

Jim G. is a TV Fanatic Staff Writer. Follow him on Twitter.

Tags: Lie to Me, Reviews
From Around the Web