Michael Ealy has come on board The Good Wife and made an immediate impression Alicia, Will and Diane.
Who, exactly, is Derrick Bond? Can he be trusted? Does he have an agenda? These are questions viewers will continue to ask as season two progresses, especially in light of the conclusion to last week's episode: Derrick will serve as Alicia's professional mentor.
"You just never quite know his intentions. That's where it becomes a bit tricky," Ealy told TV Guide, mysteriously adding: "He's definitely on an island by himself, but he's constantly talking about togetherness and moving as a unit. Those are the kinds of people you have to watch."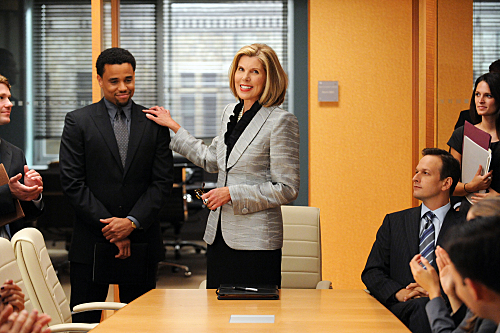 What sort of lessons might Derrick teach Alicia?

"Derrick shows her that sometimes you have to be a little bit amoral to get things done," Ealy says. "What it means to really be a lawyer, is that sometimes you have to make really hard decisions that don't make emotional or moralistic sense."

As for the actor, he's a busy man these days. Look for him to show up next season on Californication, playing the dad to actress Zoë Kravitz's character.

Matt Richenthal is the Editor in Chief of TV Fanatic. Follow him on Twitter and on Google+.

Tags: The Good Wife, Interviews