Last night's NCIS investigation focused on an attractive female bomb squad technician, one we even got to see in action at one point, conjuring up images of The Hurt Locker.
While a movie was clearly referenced, perhaps even borrowed from, in "Short Fuse," that one wasn't it. Tony nailed it when he likened the case to the '80s thriller Body Heat.
What we love about NCIS is that a goofball like DiNozzo can be slathered in makeup and just babbling on about this and that one moment, but remains a top-notch investigator.
He may annoy you, but the frat boy was spot-on here.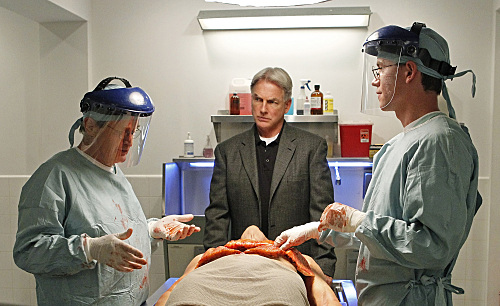 No fingerprints made for a tough ID, even for Ducky and Jimmy.
After Marine Sgt. Heather Dempsey, an EOD tech, shot and killed and intruder in her home, she raised suspicions at NCIS by failing to mention a man she was with at the time.
The guy was a married FBI higher-up, who she covered for. Once the FBI became involved, you knew Tobias, Gibbs' old friend and part-time spouse, would make an appearance.
Once again interjecting the recurring characters and personal subplots we love, these two were a hoot to watch, with the bad Indian takeout scene a clear highlight of the night.
NCIS would be a top-notch procedural regardless, but these moments and exchanges on top of the brilliantly-written crime-solving plots that make it one of TV's best programs.
On an unrelated, but similar note, Tony was selected as the poster boy, literally, for NCIS. He was modeling for promotional materials, and each photo looked hilariously terrible.
Not even Gibbs could resist what we all would do after seeing a life-size DiNozzo cardboard cutout: Smack it in the back of the head. Classic. Target practice could've work too.
The team eventually learned that the mystery intruder was a hired gun, but that Dempsey, and not her FBI paramour, was the target. Who would want a Marine EOD shot dead?
Enter the Body Heat angle. Dempsey was working the FBI suit for info, seeking the new identity and whereabouts of a drug dealer who shot and partially paralyzed her brother.
The dealer worked out a plea deal for immunity, selling out bigger-time dealers and vanishing. But Dempsey was out for revenge, which the dealer got wind of, hiring the killer.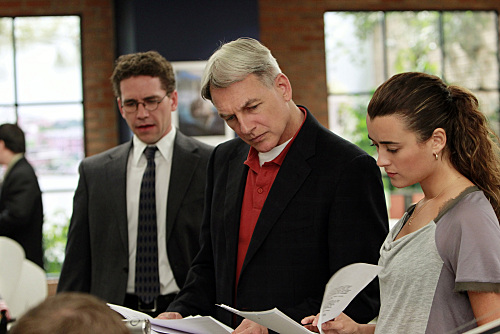 This case took so many turns, it confused even the best.
Confusing, yes. But the kind of intricate plot NCIS weaves routinely, and other shows rarely match. The team works so many angles over the course of an hour, it's impressive.
Another hallmark of the show is the way Dempsey chose to torture the dealer, rather than kill him outright. When Gibbs found them, she had him strapped to a bogus bomb.
Payback is a b!tch, but best served in prison. The dealer confessed to hiring the hit man, and Gibbs indicated he had no intention of prosecuting Dempsey, a hero in his mind.
Hey, if anyone can appreciate working within the law, but outside the chain of command, it's Gibbs. Despite what she put NCIS through, Dempsey certainly earned his respect.
Random thoughts and observations:
You rarely see it on TV, but anytime Gibbs says zero words (as he did to Tony's "publicist") and still gets his point across is priceless. Why use words when a stare will do?
Tony's look when Ziva said she finds older men attractive was part perplexed, part disappointed. We're still looking forward to some vintage Tiva scenes this season.
Abby gets so excited about solving crime, she bounces into the elevator, barely able to contain herself. Pauley Perrette has had some quietly great moments this fall.
Fornell to Gibbs: "You gonna wash up?" So married.
What did you think of last night's NCIS? Are you liking the eighth season so far? What have been your favorite moments? Share with us by leaving a comment!

Steve Marsi is the Managing Editor of TV Fanatic. Follow him on Google+ or email him here.

Tags: NCIS, Reviews
Want more NCIS?
Sign up for our daily newsletter and receive the latest tv news delivered to your inbox for free!
More From TV Fanatic
This week on The Last Ship, Danny gets sick and the crew begins to panic. Is it the virus? Meanwhile, Rachel's vaccine trials continue to fail.
Who was able to successfully problem solve on The Rachael Ray Show this week? Find out now in our review of Food Network Star.
The Masons are reunited on Falling Skies Season 4 Episode 6. Will it be a happy or contentious reunion?
What took place on The Real Housewives of New Jersey Review this week? Read our rundown to find out!
---