This is how a great show does a standalone episode.
"Agua Caliente" featured Britt getting snatched up by the Mexican cartel, reuniting briefly with his former partner and then returning to the States in time to help Mark and Hank save Katie's life.
That plot on its own served up intrigue, suspense and a few funny lines. But Terriers has created a world in which everything is connected, as Ray was only south of the border because Britt set him up to get arrested a few episodes ago; while Katie's professor was only involved in her hostage situation because... you know. Shhh, don't tell Britt.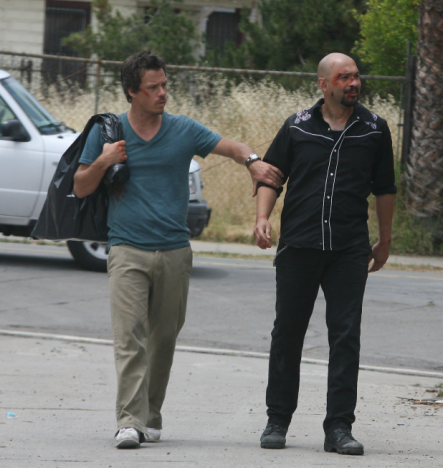 I say it every week, but no show is as versatile as Terriers. It combines drama with humor and action unlike any other program out there - which, unfortunately, is a major reason why it's faring so poorly in the ratings.

It's clear FX doesn't know how to market such a mash-up of genres. It's too bad the network can't just say:

Trust us, the characters are funny and interesting and the plots get tangled together in unexpected ways each week. Tune in!

The underrated hero of this week's installment was Mark. Although he once again teased Hank's betrayal of him from years ago, how bad could the incident have been? These two are clearly still close, as Hank can joke around with Mark's wife and Mark doesn't really blink an eye when asked for assistance by his former partner.

I'm interested to find out more about their partnership, and worried that Britt will one day learn of Katie's infidelity. It sounds cheesy to write, but his love for her is so clear and intense. Note his reaction as soon as the drug cartel leader made a threat against Katie. Great, emotional stuff.

What did everyone else think of the episode?

Matt Richenthal is the Editor in Chief of TV Fanatic. Follow him on Twitter and on Google+.

Tags: Terriers, Reviews
Want more Terriers?
Sign up for our daily newsletter and receive the latest tv news delivered to your inbox for free!
More From TV Fanatic
Power struggles ensue all around Chester's Mill on Under the Dome. Lives will be put on the line.
Scott decides to get tough on Teen Wolf after rescuing his Beta by declaring he won't sit back and watch more deaths. Find out what else went down in the review!
Heather and Tamra consider making peace with Shannon on The Real Housewives of Orange County. See what went down in our TV Fanatic review!
On Murder in the First, the trial of Erich Blunt reaches its conclusion. But what is the verdict? Find out when you read the review.
---