This could have served as the season finale of The Big C.
Following a handful of episodes in which viewers watched Cathy Jamison act in her own best interests, everything came crashing down on her in "The Ecstasy and the Agony."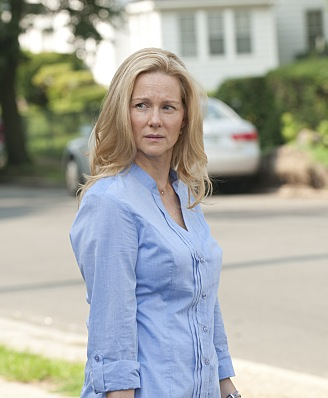 And while I do sympathize for the show's main character, I couldn't have been the only one who let out a small fist pump when Paul asked for a divorce at the conclusion of the half hour. This man has been portrayed as a drunken lout more often than not... but has there been any doubt that he loves his wife?

There's only so much a guy can take, and seeing your wife have sex with someone else on your porch, only to then be confronted by some random doctor of hers, would set even the most patient man off.

So, will Cathy finally tell Paul about her diagnosis in order to keep him around? Or is she truly happy with Lenny, who does also seem to be a good person with true feelings for Cathy? Most shows eventually depict the Other Man or Other Woman as nothing more than an obstacle between a husband and wife.

But let's give The Big C kudos for painting Lenny with a more layered brush (pun... intended!).

While Cathy's failing (failed?) marriage was the focus of the episode, we were also treated to a couple strong side storylines. While less than appealing to ponder, Marlene's date with the horniest old guy on the planet was good for a few laughs; and it's easy to relate to, and feel badly for, both sides in the fight between Adam and Andrea, isn't it?

Overall, a great episode that has me excited to see what the actual season finale, along with the installments leading up to it, will bring.

Matt Richenthal is the Editor in Chief of TV Fanatic. Follow him on Twitter and on Google+.

Tags: The Big C, Reviews
Want more The Big C?
Sign up for our daily newsletter and receive the latest tv news delivered to your inbox for free!
More From TV Fanatic
Join us for the One Tree Hill Rewatch of Season 1 Episode 4! Ready to relive the fun drama?
Power struggles ensue all around Chester's Mill on Under the Dome. Lives will be put on the line.
Scott decides to get tough on Teen Wolf after rescuing his Beta by declaring he won't sit back and watch more deaths. Find out what else went down in the review!
Heather and Tamra consider making peace with Shannon on The Real Housewives of Orange County. See what went down in our TV Fanatic review!
---